Yeo Miseng

Yeo Miseng's Debut

Status

Active

First Appearance

Chapter 82

Last Appearance

Ongoing

Age

Unknown

Height

Unknown

Scout

Korean

여미생
Yeo Miseng
(
여미생, Yeo Misaeng; or "Yuh Meesaeng"
) is a
Regular
currently on the 30F. She makes her debut in
Ch. 82
. She climbs
The Tower
in search of her parents.
Yeo Goseng
and Miseng come from the same family and are of the same generation level. This is because they share the same surname "Yeo"(여) and they share the same generation name "Seng"(생): 미생(MiSeng) and 고생(GoSeng)
[1]
. They are probably cousins.
SIU has confirmed they're not sisters, insinuating they're most likely from the same family and know each other very well (probably cousins)([2]).
Appearance and Personality
Edit
She looks like a young teenage girl. She wears what looks like a typical schoolgirl uniform with a shirt, tie, sweater, and skirt. She also carries around a pink backpack and a handphone with her.
She is caring of others, but easily shaken. She shares her food with other Regulars and even gives a lone Jyu Viole Grace a chocolate bar (translated "chips" in The Company's scanlation), even when she was well aware that he could easily kill her.
She is able to sense other people's loneliness and suffering and realized that Jyu Viole Grace was simply trying to keep others at a distance, to protect his feelings, when he declares "That is why none of you can become my teammate. I am your enemy."
She is also quite naiive and rather trusting of people, given that she clung to a woman who'd bought her a yogurt.
She appears on the 20th Floor after Horyang's appearance. Miseng also doesn't do much until Goseng appears and she yells out "Unni!". When Ja Wangnan starts yelling at the other Regulars, she says that the test is only going to last 30 minutes so they could all go up together. But Wangnan rubukes her saying that she doesn't understand anything and she was probably ditched by her friends like trash. She cries and says "I'm sorry for being useless... please don't throw me away. To meet my mom and dad... I have to get to the top of the Tower...". At this point, Hon Akraptor comes in and decides a vote-off in which he chooses Miseng. Ja Wangnan rebuffs him for choosing Miseng and instead chooses him. Viole interrupts and says he will make everyone fall by his hand and a fight breaks out. Miseng and Goseng cower in a corner while everyone else fights. Afterwards, the test is over.
While waiting for the other Regulars and the next test, Miseng gives everyone, except Akraptor, a chocolate bar. The next test, which is a Shinsoo Strengthening Test, begins and Miseng manages to come in 11th before Horyang hits the machine. She is later seen crying in the corner thinking she failed the test. When it was announced that Viole would be picking the remaining seven memebers, she was one of the people who pleaded to be chosen. She ran up to Viole and hugged him around his waist, crying that she wanted to see her mother and father. Viole awkwardly lifted his hands away, as if he was unsure how to handle this situation, though he did nothing to stop her or push her away.
During the rest period she became aquainted with the Yogurt woman and was scolded by Akraptor for being too trusting. Later on she seemed to be able to get along better with Akraptor while playing cards. which Miseng has talent with.
In the Untrustworthy Room Test, Yogurt woman tried to take advantage of her and steal her room, but Miseng refused to open the door. Akraptor came to her rescue and played a word game with her to keep her occupied. Later on she helps her team by guarding a room. After the test she is seen celebrating with the other Regulars.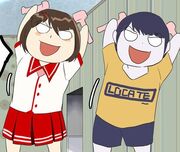 On 21F, she exercised consistantly with
Prince
. She sits with Wangnan and Goseng to greet the
FUG members
that Viole brought home and fell asleep once
Ha Jinsung
begins to brag about Viole's skills.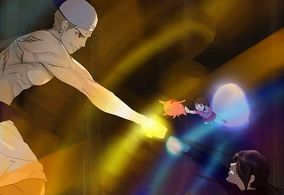 On the 21F Test, the team was divided into two groups in order to quickly find and retrieve the flower of zygaena. Miseng was grouped with Goseng, Wangnan, and Akraptor. When the flower was found on a pig like creature, the group chased after it. It ran into a small tunnel, too small for an adult to fit in. Wangnan told MIseng to go in after that since she is the only one capable of it. Akraptor agrees, thinking that it would be a good way for her to gain confidence in herself. Miseng chased it out into the open where Urek and Viole were in the middle of a fight. Viole saw that she is about to go right into where they would collide and shielded her with his body, ending up severely wounded. Urek was impressed by this and left them a flower.
After they passed the test, Miseng was often seen sitting by Viole's bedside.
Team Tangsooyook took the test on 28F. Miseng worked with her team to trick the opposing team by acting as bait.
After the test, she and Prince were sleeping in the room they were playing in while Horyang told the team his history. Afterwards, she wanted to wear pink when meeting Cassano but her idea was rejected. Later on, she expressed her concern regarding Horyang to Viole, and it was probably this that convinced Viole that Horyang had to be brought back.
The next day, she woke up and joined the rest of the team to explain the situation to Koon. She accompanied them to Koon's private bunker and saw what FUG had done. She was also there when Wangnan and Koon agreed to make an alliance. In the following months, she sorely missed Horyang and Viole, though she tried to hide it. Though she had been training with the rest of the team, she was feeling unconfident and alone. Whether it was deliberate or not, Prince comforted her when she was on the verge of crying. The night before the test she stayed up late with Prince for additional training. Though she went into into the test extremely tired, they all passed.
Workshop Battle
Edit
She along with the rest of Team Tangsooyook and Koon and Dan boarded their suspendiship and passed through to the 30th floor. There, she stared in awe at the gigantic ship Archimedes.
Powers and Abilities
Edit
It is yet to be revealed what powers she has. She is at least capable seeing as how she was able to reach the 20th Floor.
During the Flower Test we see her putting an Observer on the little pig carrying the flower, showing she is at least able to perform her duties as a scout relatively well.
During the Card Game in Ch. 90: 20F - Bath (2), it's revealed she's quite a good strategist and basically, dominated the game after she joined it. However, it remains to be seen how she'd perform during a test.
And it also remains to be seen if her personality (innocence, the crying, etc.) is really child-like or if it's an act to manipulate others or both.
Notes and Trivia
Edit
She doesn't give Akraptor a chocolate bar. The reason for that is yet unknown. It could be because he tried to vote her off earlier.
In terms of her ability to strengthen herself using Shinsoo, she is below Ja Wangnan and just above Yeo Goseng.
She doesn't seem to have any pupils and her eyes are one solid color.
She enjoys taking photos with her handphone. She took a photo of Love when he appeared and was ready to take a photo of Wangnan when he tried to take off his pants.