Vol.1 Ch.12: 2F - Yu Han Sung's Examination (2)
Comments

0
509pages on
this wiki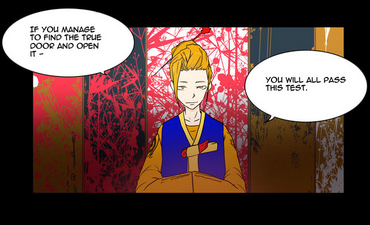 Chapter 12: Koon has a flashback of his past when Maria rather than his biological sister was chosen to become a Zahard Princess. His family was then discarded from the Koon family. Koon's mother tells him to never trust another and apologizes repeatedly for her failure, though secretly there were rumors that Koon had helped Maria become a princess.
Yu Han Sung's Door Test begins, and the goal is to choose the correct door among twelve within ten minutes. If the Regulars give up, they fail the test. If they choose the wrong door, they die. When Koon asks for hints, the director says that all hints have already been given. Koon, along with Baam and Rak, are in disbelief.
As Rak and Baam are causing chaos in the background, Koon deliberates on how to solve the test. He notices the clock on the wall, but cannot figure out what it means. As the time ticks down, Koon is split between the advice given by Mr. Neonbag and the advice given by his mother.
At the five minute mark, Rak kicks down one of the doors...