Welcome
Welcome
The Tower of God database that anyone can edit!

72,984 edits to 803 articles since October 2010! You can help us by contributing!
What do you desire? Fortune? Glory? Power? Revenge? Or info on the Tower of God characters and storyline? If it's the latter, then all you desire is here.

Welcome to the Tower of God Wiki!

Tower of God is a Korean webcomic by SIU (Slave.In.Utero) published on Naver. This wiki is dedicated to documenting all of the information on ToG. Please help by adding more information after checking the the ToG Contents Page where it links to many important pages, which in turn connect to almost every page on the Wiki. Thank you very much!
---
| | |
| --- | --- |
| | Baam, Koon, Androssi and the rest. |

| | | |
| --- | --- | --- |
| | | Manhwa of the series. |

| | | |
| --- | --- | --- |
| | | The challenges that await... |
---
Wiki News
Hello everybody, this is a message from Zahard: At the current moment in time, more users is what we need. SIU is working more than ever, and we need to match his pace. Anybody who has come here from Batoto, please, get involved. And, I don't want to sound desperate, but... please, I beg of you all - use your message walls! There's nothing that brings a Wiki to life more efficiently than the users communicating.
Latest Chapter
Vol.2 Chapter 195: With the boiling acid gushing into the arena thick and fast, Yura and her allies make their escape and an unlikely source sacrifices itself to save Koon. Eventually finding a way to escape from death, Yuri and Evan appear and lend their aid.
Chapter 111:
Miseng
heads ever deeper into
Zygaena
to find the Flower... and
Arkraptor
discovers the truth about
Viole
's true motives. Meanwhile,
Horyang
and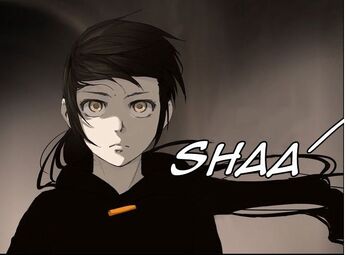 Prince
try to negotiate with
an immense power
, and gain permission to escape. But Viole refuses to give up...
Featured Article

Greetings dear Irregulars! The newest featured article is Kang Horyang! The Devil has proved his mettle in the Tower, but remains rather reclusive... what secret does his right arm contain? Read more here!
---
User of the Week - GoDai

The position is currently vacant - Please apply if you are a commited user.
---
http://towerofgod.wikia.com/wiki/Tower_of_God_Wiki:User_of_the_Week_Nominations
Users of the Week are chosen by the admin Zahard every week. If you think you have what it takes to be recognised for your work on this Wiki, shoot me a message! :D
T.U.S.
TUS
TUS stands for Talse Uzer Story. The universe of Talse Uzer is governed by a set of laws and history can never be changed. As such, there is a very finite aspect to Talse Uzer Stories as mentioned by SIU. The series of Talse Uzer contains Tower of God among the author's other works.
Main article: Talse Uzer Story
---
The Tower of God manhwa can be read here:
SIU

SIU is the author of Tower of God, and many other Talse Uzer Stories. His name stands for Slave.In.Utero. He lives to love seafood, and many Tower of God names and themes are inspired by aquatic life.
As the author of other Talse Uzer Stories, he formerly drew his manhwa in black and white rather than colour.
Wiki Character Poll #1 Winners
Editing Policies
They were going to come around sometime. Please
click here
for tips on how to make this wiki a
great
wiki.
Go here
to find out about the rules.
Admin Contacts
Tower of God Wiki - Weekly Poll
What would you like to see more of in Tower of God?
Character Poll