Welcome
The Tower of God database that anyone can edit!

84,785 edits to 906 articles since October 2010! You can help us by contributing!
What do you desire? Fortune? Glory? Power? Revenge? Or info on the Tower of God characters and storyline? If it's the latter, then all you desire is here.

Welcome to the Tower of God Wiki!

Tower of God is a Korean Webtoon created by SIU published on Naver. This wiki is dedicated to documenting all of the information on ToG. Please help by adding more information after checking the the ToG Contents Page where it links to many important pages, which in turn connect to almost every page on the Wiki. Thank you very much!
---
| | |
| --- | --- |
| | Baam, Koon, Androssi and the rest. |

| | | |
| --- | --- | --- |
| | | Manhwa of the series. |

| | | |
| --- | --- | --- |
| | | The challenges that await... |
---
SIU
SIU, or Slave.In.Utero, is the author of Tower of God. He lives to love seafood and many Tower of God names and themes are inspired by aquatic life.
SIU is also the author of many other Talse Uzer Stories. The universe of Talse Uzer is governed by a set of laws and history can never be changed. As such, there is a very finite aspect to Talse Uzer Stories as mentioned by SIU. The series of Talse Uzer contains Tower of God among the author's other works.
Featured Article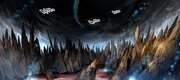 Main article: 43rd Floor
Greetings dear Regular! The newest featured article is the 43rd Floor. The Forty-Third Floor, also known as the Floor of Death, is a notorious point in the Tower. Considered to be a lawless place, is also a haven for criminals and enemies of the Zahard Empire. On this Floor, the Irregular Enryu killed the Guardian of the Floor. The Floor itself is buried under the flesh and blood of the deceased Guardian, hence the very name of the Floor.
---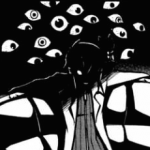 Our newest Featured User is Athanos!
Our resident world-class nitpicker, Athanos is a trusted editor that helps with technical issues, modules and templates as well as clearing up behind others and reverting mal edits! Say hello when you get the chance!
Tower of God Links
Read the Tower of God webtoon!
Wanna discuss Tower of God? Check out some of the forums!
For the tropes and devices used in the Tower of God series!
SIU related topics!
Wiki News
Keep an eye out for the polls that will appear on character pages! Also, check out our new community feature: Tower of God Battle!
If you'd like to suggest a new featured article, image or quote or suggest a new poll for a particular character page, make your suggestions here!
Affiliates
If you would like to become an affiliate of the Tower of God Wiki please contact one of the Guardians or Rulers!
Latest Chapter
Vol.2 Chapter 238: Baam and Hockney are granted free passage to the Floor of Death by the High-Leech Monk. As they get deeper into it, a mysterious woman hijacks "Manylegs" and sets course to North City. Meanwhile, as Yuri and Evan try to escape the hordes of immortal Leech Palawan, a Red Witch provides aid. As Baam, Hockney and Mata arrive at the North City, the mysterious woman introduces herself as Garam Zahard, a princess who disappeared a long time ago with two of the 13 Month Series and betrayed the Zahard Family.
Featured Image
Little girl became Barry Bonds
Featured Quote
"
He's such a brilliant boy. That pride, courage, talent, cunningness, and arrogance. I just want to break him into pieces.
"
What would you like to know more about in Tower of God?
ToG Wiki Guardians & Rulers
Daum

Black Behemoth   •  Jack, the American Ghost   •  Red Storm   •  Trace   •  Twelfth Night (2nd Wiki)   •  Wake Up Deadman

Foxtoon

Lezhin

Naver

Ability   •  Abide in the Wind   •  Americano Exodus   •  Aura from Another Planet Wiki   •  Bastard   •  Crepuscule   •  Dear, Only You Don't Know   •  DICE (2nd Wiki)   •  Divine Bells   •  Dr. Frost (2nd Wiki)   •   The Flow   •  The Gamer   • Gepetto   •  Girls of the Wild's   •  The God of High School   •  Gosu   •  I Don't Want This Kind of Hero   •  Knight Run   •  Kubera   •  Lessa   •  Magician   •  Mima of the Forest   •  Nano List   •  Noblesse   •  Nowhere Boy   •  Orange Marmalade   •  SHADOW   •  Spirit Fingers   •  Sidekicks   •  Soul Cartel   •  Supernatural Investigation Department   •  TAL   •  A Thousand Years Ninetails   •  Tower of God   •  Transfer Student Storm Bringer   •  Trump   •  UnderPRIN   •  unTOUCHable   •  Winter Woods   •  Wonted

---
Ad blocker interference detected!
Wikia is a free-to-use site that makes money from advertising. We have a modified experience for viewers using ad blockers

Wikia is not accessible if you've made further modifications. Remove the custom ad blocker rule(s) and the page will load as expected.