Welcome
The Tower of God database that anyone can edit!

77,753 edits to 846 articles since October 2010! You can help us by contributing!
What do you desire? Fortune? Glory? Power? Revenge? Or info on the Tower of God characters and storyline? If it's the latter, then all you desire is here.

Welcome to the Tower of God Wiki!

Tower of God is a Korean webcomic by SIU (Slave.In.Utero) published on Naver. This wiki is dedicated to documenting all of the information on ToG. Please help by adding more information after checking the the ToG Contents Page where it links to many important pages, which in turn connect to almost every page on the Wiki. Thank you very much!
---
| | |
| --- | --- |
| | Baam, Koon, Androssi and the rest. |

| | | |
| --- | --- | --- |
| | | Manhwa of the series. |

| | | |
| --- | --- | --- |
| | | The challenges that await... |
---
SIU
SIU, or Slave.In.Utero, is the author of Tower of God. He lives to love seafood and many Tower of God names and themes are inspired by aquatic life.
SIU is also the author of many other Talse Uzer Stories. The universe of Talse Uzer is governed by a set of laws and history can never be changed. As such, there is a very finite aspect to Talse Uzer Stories as mentioned by SIU. The series of Talse Uzer contains Tower of God among the author's other works.
Featured Article
Main article: Express Ticket
Greetings dear Regular! The newest featured article is the Express Ticket, aka the ticket to Hell. These valuable tickets give access to the Hell Express or ultimately death to its holder. Once acquired, the owner becomes the target of many Regulars who wishes passage to the Train.
---


Our newest Featured User is Vlworr!
He's a tireless user who's been editing on the wiki for quite a time! You've probably seen him about helping in keeping the articles ticking over and updating and maintaining SIU's chapter blogs. Say hello when you get the chance!
Tower of God Links
Read the Tower of God webtoon!
Wanna discuss Tower of God? Check out some of the forums!
For the tropes and devices used in the Tower of God series!
SIU related topics!
Wiki News
Keep an eye out for the polls that will appear on character pages! Also, check out our new community feature: Tower of God Battle!
If you'd like to suggest a new featured article, image or quote or suggest a new poll for a particular character page, make your suggestions here!
Affiliates
If you would like to become an affiliate of the Tower of God Wiki please contact one of the Guardians or Test Directors!
Editing Policies
Please click here for tips on how to make this wiki a great wiki. Go here to find out about the rules.
Latest Chapter
Vol.2 Chapter 216: The confrontation between Jyu Viole Grace and Kaiser begins, both with lots riding on the outcome of the fight. As Viole uses high-level shinsoo techniques, Kaiser deploys her armament. Seeing the Slayer would not fall for her provocation, Kaiser releases Fenryl and succeeds on biting Viole. Inieta reveals to Koon Ran's team that the moment you get bitten by the wolf­ one will never be able to win against Kaiser.
Featured Image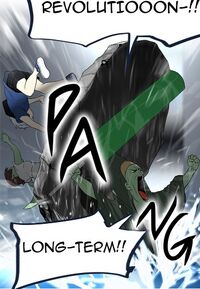 Parakewl, should we love him or burned at the stake?
Featured Quote
"
The reason why I didn't run away - isn't because I was arrogant. Is because I couldn't.
"
What would you like to know more about in Tower of God?
ToG Wiki Guardians & Rulers
Daum

Black Behemoth   •  Jack, the American Ghost   •  Red Storm   •  Trace   •  Twelfth Night (2nd Wiki)   •  Wake Up Deadman

Foxtoon

Lezhin

Naver

Ability   •  Abide in the Wind   •  Americano Exodus   •  Aura from Another Planet Wiki   •  Bastard   •  Crepuscule   •  Dear, Only You Don't Know   •  DICE (2nd Wiki)   •  Divine Bells   •  Dr. Frost (2nd Wiki)   •   The Flow   •  The Gamer   • Gepetto   •  Girls of the Wild's   •  The God of High School   •  Gosu   •  I Don't Want This Kind of Hero   •  Knight Run   •  Kubera   •  Lessa   •  Magician   •  Mima of the Forest   •  Nano List   •  Noblesse   •  Nowhere Boy   •  Orange Marmalade   •  SHADOW   •  Spirit Fingers   •  Sidekicks   •  Soul Cartel   •  Supernatural Investigation Department   •  TAL   •  A Thousand Years Ninetails   •  Tower of God   •  Transfer Student Storm Bringer   •  Trump   •  UnderPRIN   •  unTOUCHable   •  Winter Woods   •  Wonted

---