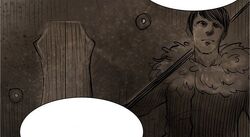 Spear Bearer
(창지기, 搶지기,
changjigi
) is the
Position
that snipes the opponent and backs up the
Fishermen
using
Spears
. Spear Bearers comprise the long range offence of the team.
About
Spear Bearers do not tend to be very powerful in a melee, but are very valuable due to their pinpoint attacking from a distance. Some carry Needles when in the front, bearing the possibility of a melee in mind, but most don't. They carry inventories, specially created for holding spears, called Pipes which are quite heavy. They are basically divided into two types, the Short-distance type, who use their spears to hit enemy weak points in the midst of a battle, and the Long-distance type, who snipe from far away. The role of a Spear Bearer is to provide backup for the Fishermen by keeping up a constant attack on the enemy's weak points.
With support of Lighthouse, an accomplished Spear Bearer is able to throw a spear tens of kilometres away. The Lighthouse has a feature which can adjust and guide the trajectory of the spear.
Basic Arming (Ranker)
Known Spear Bearers
Rankers
Regulars
Failed Regulars
Alternate Translations
Ad blocker interference detected!
Wikia is a free-to-use site that makes money from advertising. We have a modified experience for viewers using ad blockers

Wikia is not accessible if you've made further modifications. Remove the custom ad blocker rule(s) and the page will load as expected.