Rak Wraithraiser

Climb the Tower, hunt "turtles," get stronger.

Status

Active

First Appearance

Vol.1 Ch.4

Last Appearance

Ongoing

Age

Unknown

Height

Unknown

Spear Bearer

Korean

라크 레크레이셔
"Of course... A game without me... IS A GAME NOT WORTH WINNING!!!"
- Rak Wraithraiser to Baam
Rak Wraithraiser (라크 레크레이셔, Rahk Rekraisher; or "Rac Wreckraiser") is a Regular. He unwillingly teamed up with Baam and Koon during the first test on the Second Floor, and passed other tests with them. He was selected for the Spear Bearer position. He is a large and powerful warrior, and a very confident individual.
Background
Edit
Nothing is known about Rak's history so far. Due to his personality and training he is probably from a warrior family. It has been implied that he climbs the Tower to seek "Something that surpasses all others".
Personality & Appearance
Edit
Rak doesn't come off as particularly smart; he thinks he's superior to almost everyone else, and so refers to other people as "turtles". He occasionally calls himself "Rakleader" when he is feeling particularly full of himself, although Koon may be to blame for indulging him. He tries to make himself appear tough, although he's actually a bit of a baby sometimes. However, he does seem to have a little of a caring side in him, as he appeared to be slightly concerned for Baam after he was injured badly in the crown game.
Sometimes he can be more perceptive than you'd expect, for example, he was one of the two people who realized that Koon was faking his rejection of Baam before the final second floor test in order to get the others to support him and immediately understood the strategy well enough to play along.
Rak is a very large alligator-like humanoid with gray skin. He has a head similar to that of an alligator, except for the spikes on the back. He is quite muscular and roughly 15 feet (5 meters) (3-4 feet after the Hide-and-Seek game)*. He wears red robes/armor and a red cape (although he has been seen to change into a blue t-shirt), and carries a huge red spear.
Rak first appeared in the story during the test on the second floor along with the other Regulars. He quickly adapted to the battle and shoved a sniper off a cliff in order to get a good view of the battlefield. He looked around at the other regulars and tried to decide which one to "hunt". Then he noticed Baam carrying the Black March and decided that he wanted to fight with the weapon. He attacked Baam. When Baam protested that he didn't want to fight, Rak said that he had to so that Rak could obtain the strength of the needle. Koon arrived, and he and Baam hid from Rak while he yelled at them about them being "stupid turtles". When it was announced that everyone had to form a team of three, Rak resisted all efforts made by Koon trying to team up with him.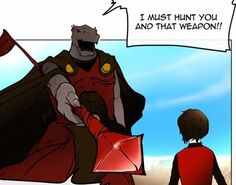 Baam then walked up to him and asked him what "hunting" was, to which Rak replied that it was fighting strong opponents to increase one's own strength. Baam then dropped the Black March, and told Rak to hunt him. Rak was confused and frustrated at this, telling Baam to pick up the weapon and fight him. However, he would not come to any rational decision, so Baam and Koon simply jumped on him just as the time ran out, forcing Rak to team up with them.
He got through the barrier test with no problem (although he was very grumpy about being teamed up with "turtles"). When his team took the Yu Han Sung's Door Test, he got tired of waiting and kicked a random door open, causing them to pass the test. Rak was very pleased with himself about this and "accepted the turtles as [his] underlings". He also said that Koon and Baam now had to call him "Rakleader."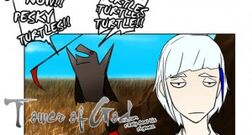 During the
Crown Game
he fought alongside Koon against the other teams. He used his immense physical strength and destroyed just about anyone who got in his way.
After the Crown Game, both he and Koon visited Baam in Baam's room. He thought Baam was dead and stated that he would make a bowl out of his shell, but then realized Baam was alive and started crying (he denied this afterwards). He was selected as a Spear Bearer, and was surprised that he didn't get picked as a Fisherman. In the training, he was told to hit a target with his spear. Rak strode confidently forward, but embarassingly missed the target. Then Akryung managed to hit it. Rak got very angry about this and went on a bit of a rampage, and refused to talk to his allies.
He eventually managed to hit the target within 4 days and passed the test early before the Joint Test (
Hide-and-Seek Test
).
He played a key role in the Submerged Fish Test, single-handedly taking on a horde of Barnacle Goblins so that Baam would safely pass. However, when Baam apparently "died", Rak was shocked, but eventually decided to follow Rachel in his honor and take her to the top. This is a key point as a signal of Rak's development of recognition for Baam.
At some point he left Ship's team with Parakewl tagging along. He is hunting in an unknown place when Parakewl runs to him and says that Koon had died. He refuses to believe this, and goes to look for the "treacherous turtle"
Abilities
Edit
Immense Strength: Rak is extremely strong, disproportionate even with his huge size. He was able to throw a spear over a huge distance, and smash aside multiple "strong" Regulars. In the Last Examination, he jumps off a tall cliff while carrying Parakewl through a vast distance and lands on a Giant Worm, with apparently no injury to himself whatsoever.
Spear Expert: Rak can wield his huge spear at both close range and long range with excellent skill. He can hit small targets that are hundreds of meters away, as shown when he hit a sniper rifle right out of a gunner's hands in the Crown Game, despite them being on the other side of the arena. He was able to swing and thrust his spear at close range so fast that even Koon was only able to find an opening when Rak was distracted.
Hunting Intuition: Rak has a sense or feel for strong opponents or weapons like the Green April or the Black March.
High Resistance to shinshoo: Rak is indicated to have very high resistance to dense shinshoo environments, evident from the fact that he used to swim through shinshoo to hunt.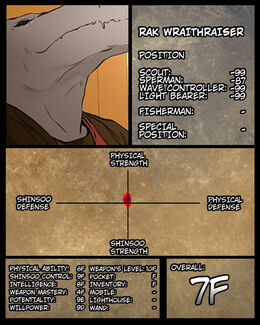 (Found on author's blog and translated by Greenanatoly Edited by Kroll Source Here and Here)
Relationships
Edit
Baam:  Rak initially met Baam as "his prey", swearing to hunt him because of the power he sensed from the Black March; afterwards, he became more friendly, but still keeps up friendly pretense that he intends to hunt him.
Koon Aguero Agnis:  Rak views Koon and Baam as his underlings; but he's also one of the few people to genuinely understand Koon, telling him that his heart is "pitch black" and that he's only good for scamming people.  Despite this, he trusts Koon's planning ability completely.
Akryung:  Rak had a somewhat one-sided rivalry with Akryang on the first floor, which drove him to succeed at the spear-thrower test and bypass the hide-and-seek game.  He made some effort to befriend the hulking giant, but Akryang seems to have completely ignored him.
Notes and Trivia
Edit
It is implied that Rak climbs the Tower in search of 'something that transcends all things'. This would be something above wealth, glory, authority, and revenge.[1]
SIU stated than "Wraithraiser" is actually the name of his race.
"You pathetic turtles, all hiding your heads inside your shells because of fear. That's why you're nothing more than baby turtles. Ones who never freely put out their heads in fear of being eaten. I will go with him. I don't care what happens next. I never lose my prey. You can all just keep hiding in your shells and live a long life."
Alternate Translations
Edit
(Korean Pronunciation) Rah-keu Reh-keu-reh-ee-sheo
(SIU, statcard) Rac Lacration
Rac Wreckraisher
References
Edit
↑ Tower of God Part I Preview