Quant Blitz

'

Unknown

Status:

Active, Previous Second Floor Test Administrator and Scout Instructor

First Appearance:

Chapter 14

Age:

Unknown

Height:

Unknown

Birthplace:

Unknown

Scout, Flame User

Korean

퀀트
"YOU LITTLE SHIT-HEAD!!! HOW DARE YOU DO THIS TO THE GREAT QUANT???!!!"
- Quant to Koon Agero Agnis
Quant Blitz (퀀트 블릿츠, Kweont Blitseu) is a Ranker. He hates to lose and wants to be at the top of everything. He likes to show off his good side, though his ego easily overshadows it. He instructs the Scout position, but doesn't really teach anything. He has red hair and a rather short temper. Quant and Lero-ro climbed the Tower together like a team, but Quant is older.
Appearance and Personality
Edit
Quant has red hair and red eyes. He has a darker skin color compared to those of other characters. He is seen mostly wearing a white lab coat like Lero-Ro, but without the legs flared out.
His personality is essentially the classic "insane psycho" character. He has a short temper, is extremely cocky, and overall just yells a lot. He is a bit of a slacker, as shown when instead of handling the Second Floor tests as he was meant to, he simply let the Regulars go on "a 30 minute killing spree". He isn't exactly intelligent for a Ranker, as Koon Agero Agnis, a mere Regular, managed to trick him, and then blackmail him.
He has a great deal of respect for Lero-Ro, and was outraged when Yu Han Sung didn't do a thing to stop him from leaving. He stated Lero-Ro as being one of the few Rankers out there with "that much" skill.
All that is known about Quant's history is that he made it to the 134th Floor of The Tower, became a Ranker, received a rank, became friends with Lero-Ro, received employment at Evankhell's Hell, learned to use fire (flame user) and received a B-level Pocket (though not in that specific order). All this can be inferred from looking at his stat card and reading the article below.
Quant first appeared in the story after proctoring a test for the Regulars on the Second Floor. He informed Yu Han Sung of the fact that an Irregular and a Princess had entered the Floor.
He was then chosen as the "hunter" in the Hide-and-Seek Test. He easily eliminated most of Team A using
Shinsoo
, and then pursued
Anak
, the
it,
only to run into
Koon
. Koon enraged Quant to the point where Quant pushed him off a ledge, only to find that Koon had set up a pulley system, and that by attacking Koon, Quant had essentially guaranteed victory for Koon's team. Koon later approached Quant with
Phonsekal Laure
, and said that Laure would help him catch Anak if Quant did what Koon wanted. Quant had no choice but to agree, so Laure blasted him up to catch Anak.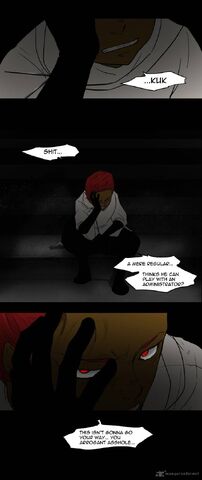 At the start of
Team B
's test, Quant was seen muttering that Koon would not get his way. He seemed very angry about the recent events. He then started hunting Team B, and ran into
Hatsu
. He attacked him, and was surprised by his skill, comparing his style to that of
Arie Hon
's sect. He then moved in for another attack, which Hatsu dodged. Hatsu leapt into the shadows, and then attacked Quant, but he was ready, grabbed the swordsman and smashed him into a wall. However, Hatsu was able to trap him with his grip, to Quant's amazement. However, the
Spear Bearers
for Team B had run off, and Quant was able to break free and defeat Hatsu. He then turned up in the Safety Zone, telling
Ho
that she was impudent to say she was working for God, as he was the god of the test. He had found them by tracing
Rachel
's
Lighthouse
, meaning someone must have told him about Ho's plans beforehand. He attacked Ho, but
Parakewl
and
Mauchi
attacked him with spears at long range, allowing Ho to get into the Safety Zone. While Quant considered his options,
Baam
turned up, and was forced by Ho to attack Quant. Quant immobilized Baam with
Shinsoo
, and told him to copy the technique to save Rachel while he dealt with the
Spear Bearers
. He had only told Baam this to get him into the Safety Zone, but when Baam actually used the ability, Quant wondered if Baam was really "a monster", especially after Baam used it from a distance to help Androssi catch him.
As of Chapter 78, he was fired by Yu Han Sung after Lero-Ro quit his position as Examiner, as Sung awkwardly describer them both a "set menu". Quant claims not to be involved with him but even after warning him that where he was going was a hellish-place he still follows Lero-Ro to the 77th Floor, to the headquarters of the Wolhaiksong.
Quant goes with Lero-Ro to the 77th Floor to find Wolhaiksong's headquarters, finally getting there after six years. Despite how much they look, they become lost in a forest. They eventually come across an odd arcade in the middle of this forest, Koon Koon Arcade. Upon entering, they meet someone with the classic Koon features, blue eyes and white hair, who calls himself Blueberry. Quant challenges him to several games, betting his money, and in the end losing his life savings. Blueberry then gives Quant one more chance and tricks him into entering a real suspendiship (which Quant thought was a simulation model), blasting Quant nearly to death. Quant's squabble with Blueberry is postponed when Lero-Ro recognizes Blueberry as Hachuling of Wolhaiksong. After receiving a sudden call from Yuje, Hachuling offers them a job (that he really doesn't want to do himself) that would allow them to become Wolhaiksong interns.
Powers and Abilities
Edit
Quant did seem to be manipulated easily during the Hide-and-Seek test but even then, it must be remembered his opponent was a son of Koon Eduan, whose Family is widely known for being cunning, manipulative and two-faced.
He seems to have low emotional intelligence and is subject to outbursts of temper, which tend to cloud his judgement and which likely mar his potential as Koon Agero Agnis managed use his emotional state against him. But he was able to determine the strategy of the team A, and to accurately calculate the time required to join their positions against him.
Quant has also been shown to use restraint, such as in the fight with Hatsu, as the latter noted that Quant could have finished him any time he wanted but chose rather to see the limits of Hatsu's skills.
Excellent Physical Skills: Quant has demonstrated quite strong close combat capabilities. He can easily take on multiple fairly good fighters at once, and Hatsu noted that his moves had been honed to a level that was beyond human.
Shinsoo Enhancement: Quant can use Shinsoo to enhance his body, giving him increased speed, strength, and reflexes.
Night Vision:
 Quant can see perfectly in pitch darkness, without using any kind of goggles or equiment. He can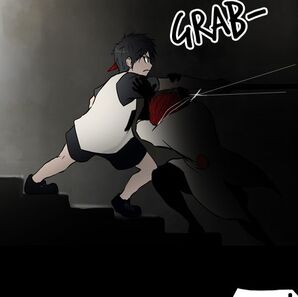 also make his eyes glow red.
Shinsoo Concealment: Quant can actually "spread out" a room of Shinsoo to provide shadow for him to hide in.
Shinsoo Attacks: Quant can use Shinsoo to knock people out at long range, using it much like his fists, except without moving.
Fast Skip: Quant can temporarily immobilise an enemy at a certain range using Shinsoo. (Note: The Company referred to this as "Paralyzing Flow" but SIU has referred to it as "Fast Skip".)
Flame User: This position is fairly unknown. Though "hwayeom" does translate into fire, it may be a non-literal meaning or comparison. If it is related to fire: according to SIU in a chat, it is extremely difficult to turn Shinsoo into fire([1]). (Note: it is unverified as it's from a chat but this is accepted as fact by most or all Korean fans.) If being a Flame User does involve manipulating fire, this might be connected to his Black Fish ability. But the Blitz Family is notorious for producting fire users and Quatro Blitz, another member of his family, created flames with shinsoo.
Black Fish: A Shinsoo technique that blocks out the light. Thereby making the scout "invisible" in dark places. Upon usage, Quant is covered in a strange dark liquid and moves at an incredible speed, seemingly becoming able to move through objects. During the Hide-and-Seek test, it's likely he used it only on his hand and limited himself as it was a test. So, his hand gained enough strength to crack stone and to mildly burn anything it touched. The full strength of his ability is unknown for now.
Notes and Trivia
Edit
Quant is jokingly referred to as a coffee shuttle for Yu Han Sung during the Hide-and-Seek Test.
His face appears on many products seen throughout the Tower. Recently, the reason behind Quant taking so many CFs (Commercial Films) has been revealed, bringing much media attention; it's because Yu Han Sung controls his publicity rights. Quant didn't bother to read his 2F Test Administrator employment contract carefully upon being hired, affixing his seal and signature without a second thought. In reality, the main contract contained the publicity contract as well. Nowadays, Yu Han Sung disseminates Quant's publicity rights at really cheap price for a Ranker. He already has taken tons of pictures in case Quant quits. Although Yu Han Sung fired him, the contract is still legally valid and will not expire for hundreds of years, much to Quant's chagrin. Quant cries tears of regret whenever he sees his new advertisements. As a side note, Quant is a very popular model for products such as the punching machine series, chewy foods, and crackers. [1]
References
Edit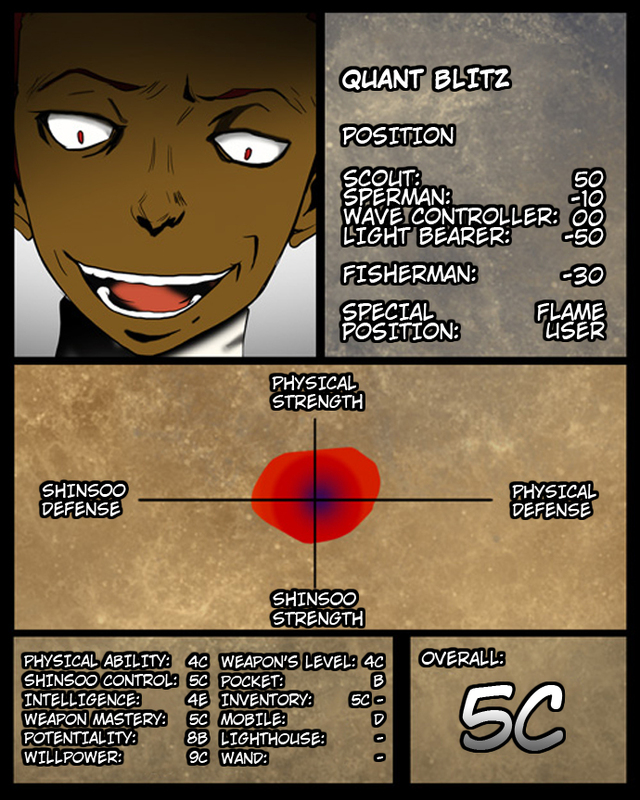 (Found on author's blog and translated by Greenanatoly Edited by Kroll Source Here and Here)08:14, December 16, 2012 (UTC)24.98.241.65