Prince of the Red-light District (홍등가의 왕자, 紅燈街의 王子, Hongdeunga-eui Wangja) is a derogatory term used to name some of the Tower inhabitants who have inherited the blood of Zahard.[1]
History
According to Rachel's mysterious informer,[2] their existence is a shame to the King of the Tower who regards them as his "worst disgrace" and has tried ever since to hide them.[1] Likewise, Hwa Ryun spoke of one of them as "the most terrible affair left by the Ten Great Families and Zahard".[3]
Ring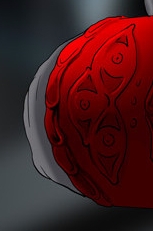 They bear a red ring engraved with the symbol of Zahard. The rings were crafted from half of the Key of the Tower.[1] Thus, it is said that only when all Princes gather on the 135th Floor, then this floor may be conquered.[1]
Powers and Abilities
They are said to carry a power which they were not meant to hold.[1]
As both of the known ring bearers have proved they could ignore death to some extent,[4][5] some readers speculate they are covered by Zahard's immortality contract to some degree.
Princes
Known
Plausible
Notes and Trivia
References