Novick



Status

Active

First Appearance

Chapter 103

Last Appearance

Ongoing

Age

Unknown

Height

Unknown

Spear Bearer

Korean

노빅
Novick (노빅) is a Regular and a Spear Bearer originated from one of the Ha Family's branch,   currently on the 30th Floor . He is part of Koon's team. Novick knows that Koon has been using force to capture and force notable Regulars into his team, though he doesn't do anything to stop it. He also knows why Koon tries to bring Rachel to the top of The Tower.
In the group, he is ranked 2nd, not counting Koon. He has a rivalry with Ran, who's currently ranked 1st. It's said that Novick stays in Koon's group just to fight Ran. Novick is estimated to be one of the Top 10 strongest E-rank Regulars.
Appearance & Personality
Edit
Novick is a tall, muscular man with a pale complexion and black hair. He is often seen wearing a black, short sleeved sports shirt with a green collar, black shorts, and black and green sneakers.
Novick is a prideful individual, always aiming for first within Koon's team. He sees Ran as his rival and often creates contests to try to show that he is better; however, despite his fixation on Ran, Novick has been shown to be careful, logical, and adaptable when dealing with unknown situations. 
When Edin Dan was captured, Novick was given the duty of answering any questions he had and introducing him to his other teammates. Novick is also the one to initiate the fight to determine the strongest within the group.  When the rest of the group quickly surrendered, he challenged Ran, but was quickly defeated by him.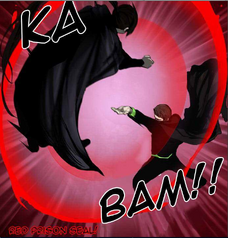 He later went with Koon to try and capture the
Devil of the Right Arm
.  He constantly berated Ran about being careful and methodical, causing Ran to destroy Koon's
Lighthouse
and go off on his own.  Novik caught up to Ran to find him engaged in battle with a figure
similar to the Devil
, and promptly joined in the fight. He and Ran chased after Horyang, and told Ran to slow down, after which Ran immediately sped up.
He and Ran were led to a room in Arlen's hand, where Cassano revealed himself. After Ran was sent flying, Novick attacks, but Cassano jumps up and injures him. However, like Ran he is uninjured, and when Ran says that he is getting bored, he takes the front line, blocking Cassano from attacking, while Ran uses Espada de Luz to defeat Cassano. He then along with Ran battles with Horyang before Horyang is back stabbed by the presumed dead Cassano. Viole arrives just seconds later and after trying to reason with him, decides to give up and admits to killing Hoyrang even though he clearly did not.
Viole quickly dispatchs both Ran and Novick (Novick claims that Ran was not 100% however). When Xia Xia shows her true colours, Novick manages to take the remote to a bomb from her hands before being frozen by Viole. Xia Xia detonates the bomb. Ran and Novick were saved when they were accidentaly taken along Xia Xia's escape machine.
Novick and Ran are both angered at what happened to their team and attack Xia Xia and Cassano. Before Ran and Cassano could exchange blows, Viole steps in and puts a stop to the fight. Viole explains that he did not wish to fight what Koon's teammates and presses for a truce and alliance. Xia Xia relents to Viole's insistence. Novick wonders why Viole seemed so concerned for them but follows Ran's lead, who agreed to the truce and alliance. He is imprisoned along with Ran in the new base for Viole's team.
Upon completing the 29th floor test with his new team, Novick tells Ran that despite the fact that he dislikes the team; it is the best team he's ever seen. Novick is then seen along with Ran with Reflejo behind their backs. Novick pleas to Viole to make Reflejo take off the cuffs on their ankles. Viole orders Reflejo to take them off despite his advice as this happens Novick then tries to intimidate the masked man however quickly stepped two steps backward when he realizes that Reflejo is not a person to mess with. 
Powers and Abilities
Edit
Estimated to be at least one of the top ten E-Rank Regulars, Novick is an exceptional combatant,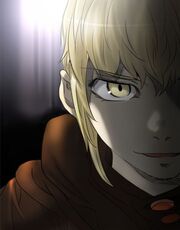 second only to Ran within his team. Based on his Ha Family blood, he potentially has great physical prowess as shown when he was left relatively unscathed by both Cassano's and Horyang's attacks. However, it has been shown that his overestimation of his own abilities can get the better of him.
Red Fire: Novick use and form his shinsoo into the form of dark red fire.
Shinsoo Hardening: He can harden his body with shinsoo to withstand Viole's lasers. This is no doubt due to him being a member of the Ha family.
Boomerang Blades: Novik uses a kind of spinning blade in battle, which returns to his hand after it is thrown
Hayeol Style: Crimson Soul Fist : Novick can manipulate his fire like shinsoo to form a spherical dome around him as a shield, sealing him away from any reach. However it can be seemingly overpowered as Horyang was not affected by this technique when he activated his right arm. 
Hayeol Style: Crimson Soul Fist-Crimson Bell Shock Seal: A technique that can knock a person up into the air when hit. The actual effectiveness of this technique alone is unknown, it is most likely used to set up for a more deadly techinque. 
Notes & Trivia
Edit
Novick has a habit of biting his fingers.
Novick is not from the Ha Family. He is from a Family which split off from it.[1]
He currently is on the Too Bothersome level on Ran's chart.[2]
Surprisingly, Novick is the best cook on Koon's team; however, Novik only cooks on special days, so the team members are trying to increase the number of these special days.[2]
Novik enjoys making many different family names and introducing them falsely, such as Novik Grand, Novik Giant, Novik Yesbig etc. He thinks such behavior is very funny and also intelligent. In truth, Novik is from a famous branch of Ha family[3]
References
Edit