Mule Love



Unknown

Status:

Active, 20th Floor Test Administrator

First Appearance:

Ch. 86: The Strongest Regular (1)

Age:

Unknown

Height:

Unknown

Birthplace:

Unknown

Won-Sul-Sa, Spear Bearer
Mule Love (뮬 러브, Myool Reobeu; "Mule Love") is a Ranker and an Administrator on the 20th floor. He is drawn rather roughly, with a very comical appearence. He was born into the Mule Family and also belongs to the Chicken Love Club Family. He has become a Wonsulsa after passing certain Tests at the Research Association.
Background
Edit
When he first appears in
Ch. 86
, everyone snickers and thinks him adorable.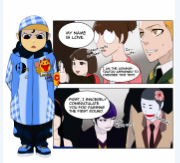 Despite his deceptively cute appearance, he scores 13,200,000 on the Shinsoo measuring machine after only lightly hitting it. He tells everyone that the machine will measure their Shinsoo strengthening ability. This test,
The World's Strongest Regular Test
, will determine the passing eight. When
Prince
beat
Yeon
in the test, Yeon asks for a retry since her first attempt was hindered by her tripping. Love denies her request. He gets surprised when
Viole
does the test, recognizing the ability Viole used as HwaJeopGongPaSool, a trademark of
FUG
. Everyone is surprised when he anounces that Viole will pick the remaining seven members. Prince then asks what the test was for, to which Love says it was to pick first place. At Prince's protests, he says, "Shut up. I do what I want." When Viole states that he doesn't wish to pick teammates, he is surprised. After Viole gives his reasons, Loves says he understands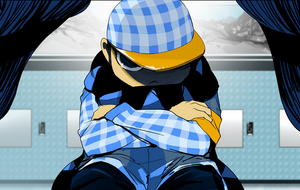 Viole's concerns but regardless of the person, the test cannot be changed. He also says that a few of the other
Regulars would be willing to make a deal with the devil to pass. When Viole refuses to answer, Love proposes a game with him in order to settle the matter.
After letting the regulars out to rest, he talks to Augusgus about eliminating the FUG member, but is reprimanded and told not to harm Viole. It seems that all they are to do, is to uphold the fairness of the Tower's rules and refrain from taking sides in any political issues.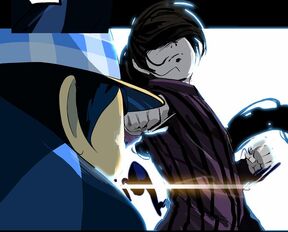 However, he has defied his superior's warnings. After everyone went to sleep, Love secretly initiated a surprise test while challenging Viole to "a game" in the Bath area. And one of the rules in the game allows Love to interfere with Viole's attempts to catch the "connector" and he's allowed to kill the FUG member "by mistake". He fought with Viole, and was surprised by his control over Shinsoo, but was able to prevent him from catching the remote on all three throws. On the second throw he explains that his agenda against FUG was because of his parents' murders. On the third, impressed with Viole's skill, he attempts to persuade Viole into using his powers for good. Wangnan interrupts their fight and steals the connector, distracting Love with a chili pepper bomb. Love is angered that Wangnan would sacrifice everyone for his desire for revenge. He beats Wangnan up but is unable to stop the connector from being tossed to Viole. He does not appear to stop them from going after the other regulars afterwards.
After the test is concluded, Love is reprimanded by his superior Augusgus for illegally conducting a test. It is revealed that news of a slayer candidate beating a ranker has spread throughout the tower. Augusgus doesn't accept Love's offer of resignation, but makes him buy him fried chicken as an apology. Later on Love confesses to the Regulars that the test wasn't official and tells them that it replaces their final test, letting them move on to the next Floor. Love buys them lunch, where Wangnan and Miseng demand tangsooyuk.
Powers & Abilities
Edit
Being a Ranker, Love is well equipped with various abilities.
Wonsul: Love uses his Shinsoo in a circular motion, making it more powerful than usual.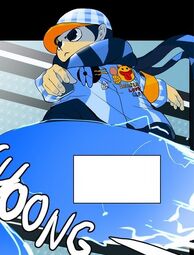 Shinsoo Strength: Love can strengthen his body immensely with Shinsoo; he scores 13,200,000 on the Shinsoo King Challenge, which is almost 100 times stronger than Baam's/Viole's HwaJeopGongPaSool.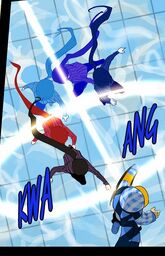 Blue Oar: Love can create large blue bubbles of Shinsoo to ride on allowing him to move around very quickly.
Slider: Love can seemingly "slide" under or through Shinsoo attacks. Producing a afterimage of himself moving.
Fast Ball: a beam cannon, seen in the picture to the right:
Straight Ball: A reverse lunge punch strengthened by Shinsoo.
Pitch Changeup: Arguably his most powerful attack, it is a devestating close-range blast using red and black Shinsoo. This was strong enough to knock down Viole.
Beam Cannon:  Love focuses shinsoo in the palms of his hands and then releases it in a beam like attack.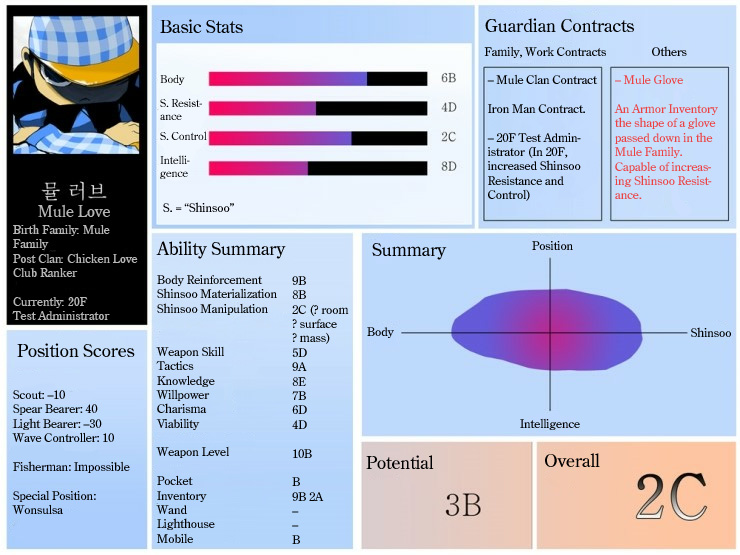 Love belongs to the "Spicy (양념, Spicy and Seasoned)" side in the Chicken Love Club, and has a tag on his left arm that shows it. He refuses to go over to the Fried side when Augusgus invites him.
An ironic fact about Love, despite hating FUG, he managed to power up Viole, a FUG slayer candidate, since Viole copied his techniques.
Love is based on Korean baseball player Ryu Hyunjin. Likewise, his game is based on baseball, and so are his battle techniques.