Lo Po Bia Ren

Lo Po Bia Ren's face

Status

Alive

First Appearance

Position Test Arc.

Last Appearance

Unknown

Age

Unknown

Height

Unknown

Wave Controller, Anima

Korean

로 포 비아 렌
"To be honest, I've been quite bored recently, ever since receiving Zahard's protection... No-one would ever challenge me!"
- Lo Po Bia Ren to Yu Han Sung
Lo Po Bia Ren (로 포 비아 렌) is a RED Ranker, and was posing as the Wave Controller instructor on the Second Floor, Yuga (유가). In his Yuga suit, he looks like a big ball of rice, with little legs poking out from under him. His eye is in his mouth, similar to Headon. He enjoys eating doughnuts using three long tongues (but later he exhibits as many as 10 tongues). Inside his wool covering, Ren is a small, pale-skinned humanoid, although his face is never shown clearly and he sometimes appears obscured with monstrous features. He was extremely pleased with Baam's progress during training, and boasted to the other Position Examiners that he found "a lottery ticket", refering to the fact that Baam is either useless or game-changing in the joint test. He is quite rude to his seniors, as shown by his threatening to tell Zahard about Yuri's actions. This suits the nature of RED, though, because it's primarily their job to keep tags on the Princesses.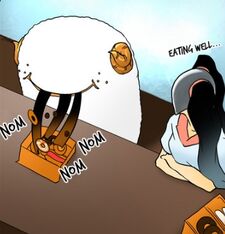 In
Chapter 54
, it is revealed that "Yuga" is actually a member of
Zahard
's
Royal Enforcement Division
(
RED
), and his actual title and name is No. 67, Ren. By his own admission, he is the youngest member of RED. His mission is the retrieve the
Black March
and
Green April
, while preventing
Anak
from climbing the tower. He is also the one that killed Anak's
mother
and he is a bearer of the Crest of the Crimson Three Eyes. Ren revealed to
Androssi
that he is a member of the
Bia Family
and is using his position to promote the Bia Family's
Princess
.
At one point, Yu Han Sung caught him talking to his superiors. They prepared to fight each other, but at the last minute Yu Han Sung stopped the fight and told him that he would help him with his mission. What Ren did not know was that Yu Han Sung only used Ren so Zahard would think Baam was dead.
At first, Ren showed great interest in Baam because of his talent and even said that he might be worthy of the crest of Zahard, during his conversation with his superiors. However, when Baam revealed that he was an Irregular in front of everyone, he sent the Bull after him during the Submerged Fish Test.
Even if he's weaker than Yu Han Sung, who is a lower ranking High Ranker, he has high influence in The Tower as a member of RED.
Powers and Abilities
Edit
Ren is a powerful Wave Controller and Anima. While posing as Yuga, Ren tells Baam that people called him a genius for being able to create his first room after only two years of Shinsoo training. If he was telling the truth, then Ren would be considered a genius Wave Controller. As an Anima, Ren has been shown to be able to control powerful creatures such as giant eels and the Bull. Ren uses his wooly exterior as a container to hide the countless shinheuh that he controls.
He has the ability to fire Shinsoo beams from his mouth.
Although he is strong, he is unfortunately a little too haughty, to the point that he challenged Yu Han Sung to a fight, who happened to be far stronger than Ren. This is because he holds great political advantage, as he is from the Tower's superior enforcement division.
Shinheuh Ren has controlled:
In Ch 72, he was called the "Perverted RED guy" and "Rice Ball" by Evan Edrok, after he was defeated.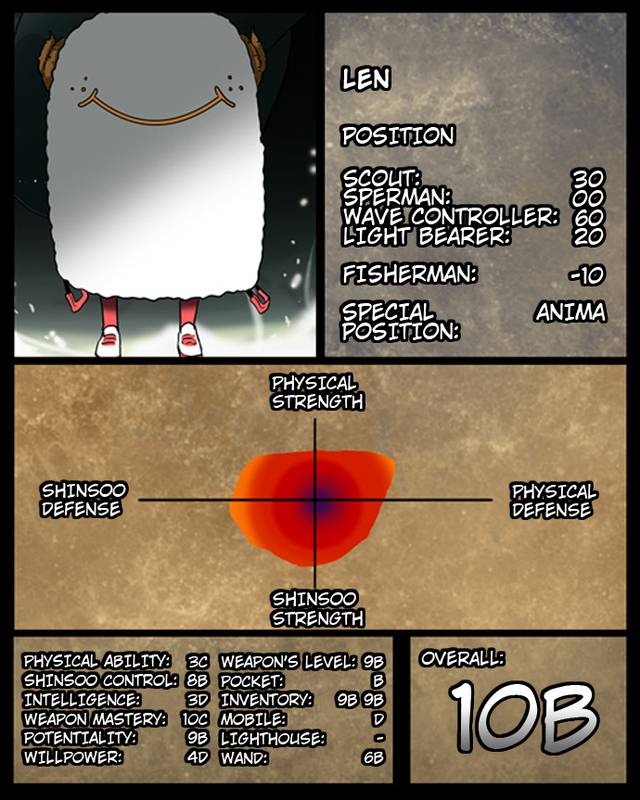 (Found on author's blog and translated by Greenanatoly Edited by Kroll Source Here and Here)
Alternate Translations
Edit