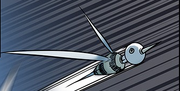 The Little Bee (리틀 비, Liteul Bi or Little Bee) is an invisible Observer owned by Grand De Lee.
Effects
This observer was able to destroy Koon Aguero Agnis's Lighthouse.[1]
Anyone stung by it will die slowly from poisoning.[2]
References
Items

Miscellaneous
Devices
Weapons
Ad blocker interference detected!
Wikia is a free-to-use site that makes money from advertising. We have a modified experience for viewers using ad blockers

Wikia is not accessible if you've made further modifications. Remove the custom ad blocker rule(s) and the page will load as expected.