Added by

Fullmetalalki

"This is the true face of The Tower. There's no need to blame anyone, or hate anyone."
- Kim Lurker to Ja Wangnan.
Kim Lurker is a shylock working for Lurker Cash. He makes his first appearance in Ch. 81. He is a Regular on the 20F, and the first major antagonist of Part II.
Appearance
Edit
Kim Lurker has pale white skin, grey eyes and black hair. He is seen with a flower on the left side of his head, which may be a daisy, wearing a bordeaux trenchcoat and a black jumper.
Abilities
Edit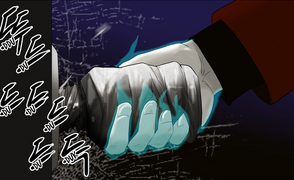 Kim Lurker manipulates 
Shinsoo
 using a buzzer-like wand he hides in his pocket. 
Without the wand, Lurker cannot use Shinsoo. He can cover his hand in it in order to give it more power and door knobs can be easily destroyed with this. He can also form a hand out of Shinsoo that can hold down enemies and hurt them without much effort. It is yet unknown how strong he really is, because he went lightly on Ja Wangnan. He is shown to easily be able to murder another
Regular
, and can use Shinsoo as if it were a scalpel to slice through anything. At the current point in time, it isn't a far off assumption to say he would be far above the level of an ordinary 20F Regular.
Personality
Edit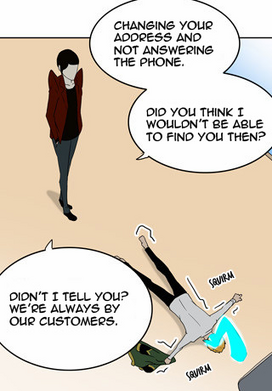 His work fits his personality. He is very cold blooded and not afraid of using violence in order to intimidate his client or force them to make an agreement. While bullying Ja Wangnan and forcing him to sign an agreement where Wangnan would sell his organs if he were to fail the exam again, Lurker is seen with a permanent sadistic smile on his face. He is two faced, acting as something of a suck up to his boss's son (whom he calls 'Young Master') but betrays him when it appears more profitable.
He also has a habit of "borrowing" someone's strength to do his dirty work. He does that by employing brute strength in the form of the "Da-an" bodyguards or by "tricking" someone like Nya Nia or using a "controlled" Yeon Yihwa to attack others.
He's also quite a smug person, who thought there was no one else who could actually beat his team.
In defeat, however he shows a different aspect to his personality. Having been victimized by Prince's father and forced into his company, Lurker believes that in the Tower there is only prey and those who prey on them. Therefore any evil done to another is no cause for anger or resentment, as everyone destroys other's dreams in pursuit of there own. When Wangnan forgave him, he is left visibly stunned and unsure how to react.
Lurker is first seen breaking and entering into the apartment of Ja Wangnan. When he sees Wangnan running away, he manipulates Shinsoo to grab his head and slam it into the ground. Afterwards he forces Wangnan into signing a beautifying diet contract, which is really just a way to harvest organs, by mockingly repeating Wangnan's goals. Wangnan signs it in order to get more money to take the test again. When he was about to leave, Nya Nia is at the door delivering food that Wangnan orders. Lurker pays for this, saying that Wangnan would eventually pay for it all anyway (with his body).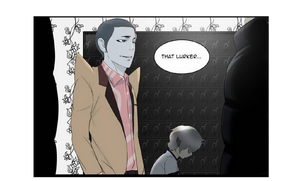 The next time we see Lurker is when he accompanies the son of his boss, a Regular who is taking the same test as Wangnan. Lurker sees Wangnan and comes over to greet him. He tells Wangnan about his boss's son and the people who were hired in order to help him pass, ending with saying that the rest won't pass because of him. He also states that this was his chance to advance and climb the tower. Lurker scored just below Hon Akraptor in the World's Greatest Shinsoo Contest. After everyone has taken the test, he is seventh. When his boss's son mocks Wangnan's pathetic begging and states that it would be better to just retake the test, he remains silent.Lurker confidently goes to Prince's room to sneer at Prince's misfortunes. When Horyang showes up, Lurker orders the possessed Yeon to attack him. When Viole showes up he orders Rapdevil to get the remote and runs away to room 601. Viole manages to enter the room and Lurker gets punched by Wangnan. Wangnan and he argue about the justice in Wangnan's act, with Lurker laughing at the irony in Wangnan's actions.
Lurker reveals that he betrayed Prince out of resentment. Once he was like Wangnan and accumulated a lot of debt in order to climb the tower, but was unable to pass the test or pay back the money. He begged the president of the company to spare his life and received his current job instead.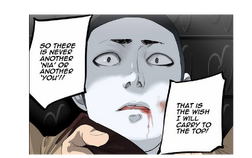 When the president asked him to help his son climb the tower and told Lurker that he spent his entire fortune to bribe the test administrators on 20F, Lurker becomes bitter over how his dreams were crushed for this reason. Lurker argues that there is no point in resenting any of the other regulars because they were all in the same position. Wangnan decides to forgive him for Nia's sake. Lurker becomes angered by this because he doesn't think Wangnan or anyone else had the right. In the end, he fails the test.
"You see, I hate people like you the most. When you step into this world, you just become a bad guy. Don't pretend to be a good guy because you Just. End. Up. Like. This! This!"-(Lurker killing Nia)