Hwa Ryun - Part 1

'

Status

Active

First Appearance

Chapter 9

Last Appearance

Unknown

Age

Unknown

Height

Unknown

Guide, Wave Controller(possibly secondary specialisation)

Korean

화련
Hwa Ryun - Part 2

'

Status

Active

First Appearance

Chapter 106

Last Appearance

Unknown

Age

Unknown

Height

Unknown

Guide, Wave Controller(possibly secondary specialisation)
"As promised, all that you seek, all that we desire, is prepared up there. On top of the Tower."
- Hwa to Baam
"In FUG, there are those who have a grudge against 10 Families and Zahard, those who envy what they possess, and those who want to change the tower. A Slayer is a GOD who fulfills their wishes. ... Hang in there, my God."

- Hwa to Baam
Hwa Ryun (화련, Hwaryeon; or "Hwaryun") is a Guide.
NOTE: She may be a Ranker (not confirmed) arranged by Yu Han Sung, but her true affiliations are unknown.
Background
Edit
Hwa Ryun is a Red Witch Guide and a member of FUG. Evan Edrok seems to recognize her, and is shocked to see her, leading one to speculate that she might be someone important. Beyond that not much is known about her past yet.
Appearance & Personality
Edit
Hwa Ryun has red hair and red eyes. She is usually depicted wearing a pink sweatshirt with a hood, a black skirt with red legging and some type of a mask covering half her face (due to losing one eye). She is a quiet person who says little and she has a gloomy and ominous aura. She is also quite manipulative, considering she was able to trick Koon Agero Agnis into falling for Yu Han Sung's plan to "push" Ho into taking some action against Rachel.
In Part 2, she's depicted as mischievous and teasing, as she clearly mocked the Viole Impostor and repeatedly called him 'Pig'. She almost always smiles in mischief, and probably a little bit of arrogance. Yihwa sees her as creepy when they meet.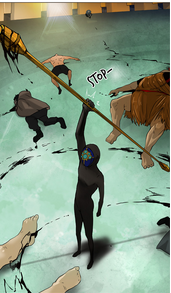 Hwa Ryun entered the tests on the
Second Floor
posed as a Regular (A job given to her by FUG) so she could better accomplish her objectives without suspicion. She teamed up with
Yung Changsoo
and
Goon
in the
Crown Game
where she refused to ally with the other teams instead wiping them all out until she was stopped by
Androssi
. She then got past Androssi and attacked Rachel (perhaps her objective from the start of the game), and as a result she was wounded in the face by
Baam
who somehow attacked (or perhaps caused her to be attacked) with
Shinsoo
despite him not having made a contract with the manager.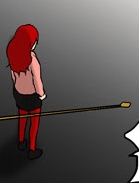 After the game she was assigned the Wave Controller Position. This is the same group Baam was assigned to which is probably not chance. Later she is part Yu Han Sung's plan to "push" Ho into taking some action against Rachel. During the final examination she is seen passing by Evan causing him to have a shocked expression, making one wonder how Evan knows her. After the final examination, in a flashback to before the crown game, she is revealed by Yu Han Sung to be a guide and told to assist Rachel. After the final examination at night, she asked Rachel: "How is it? The feeling of having walked this path?(Ch 77)" She apparently knew Baam was still alive and left her for the boy(Ch 77). This was after she had finished teaching Rachel, how to walk her chosen path(Ch 3).
She is seen in Part 2 in a non conversational flashback (with purposely empty speech bubbles) of Viole when he is faced with Wangnan begging (blackmailing) him to help and even the odds against Lurker.
Viole goes to meet her on the 21st Floor, at a karaoke box which was being extorted for money by a Viole impersonator. Hwa Ryun provokes the Viole impersonator, having fun with the situation. Viole easily takes care of them. Yihwa bursts in, thinking that VIole was causing trouble. Ha Jinsung enters the scene and is confused about the additional person to their FUG meeting. Yihwa attempts to attack them for being FUG so Viole knocks her out in order to prevent her from getting herself killed. They all end up going to Viole's house where they introduce themselves to Viole's team. Eventually each of them make their own excuses to leave until it is just Wangnan and Hwa Ryun. Hwa Ryun reveals that Viole was an irregular who was being threatened into doing what FUG wanted. Wangnan is outraged by this and resolves to help Viole.
After the Flower of Zygaena test, Hwa Ryun easily manipulates Yihwa into helping Viole by saying that an elite would attempt to correct her family's wrongs. Wangnan later approaches her for guidance, knowing that she was a guide. He realizes that she told him that Viole was an irregular because he was able to reconnect Viole to his friends. Hwa Ryun makes a remark that implies that his motives could be altruistic or selfish, calling him the "Prince of the Red Light District." She tells him that if he wants to reunite VIole with his friends, they must climb to floor 30 and participate in the Workshop Battle.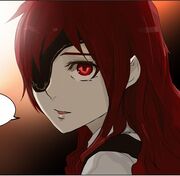 Powers & Abilities
Edit
She fights using Shinsoo to enhance her strength and speed, and also uses a gold staff that can fly and attack using Shinsoo. Her staff might be made of high purity Suspendium, so it can float. However, she is a Guide so her fighting skills are quite low([1]).
Notes & Trivia
Edit
Hwa Ryun showing both eyes

Added by

GoodYearBlimp

In one of the chapters of the flashback, Chapter 77, she is shown with both her eyes intact. And when she was among the Regulars waiting to take Lero-Ro's barrier test, she was depicted as having covered her whole face with a jeweled mask. However, after her eye was injured by Baam, she covered it with an eye patch. It's unknown if her eye has since recovered.
Hwa Ryun's species is Red Witch known for their bright red hair and for being Guides