Hon Akraptor

'

Status

Active

First Appearance

Chapter 82

Last Appearance

Ongoing

Age

Unknown

Height

Unknown

SpearBearer

Korean

혼 아크랩터
"Shhh.... There are kids listening."
- Hon Akraptor to Yeongsuk the Yogurt woman after injuring her in a fight.
Hon Arkraptor (혼 아크랩터, Hon Ahkeuraepteo; or "Horn Arkraptor") is a Regular who has so far ascended to the 30th Floor .
Appearance and Personality
Edit
Hon has close-cropped silver hair, and fights with a small lance that can fire Shinsoo over a long distance. The lance can also open up like an umbrella to be used as a shield. He does not get along well with others, and tries to attack his allies even when they have a common enemy. Initially he is disliked even more than Viole by the other Regulars. Later on he acts as the voice of reason in the group, sometimes calming down other members when they are upset about their situation. Akraptor has taken a responsible role in the team and acts as the team's councilor, often intervening when it looks like a team member's personal feelings are getting in the way of cooperation. He is protective of Miseng since he used to be a father. At first his motive to climb the tower was to gain strength so he could protect those precious to him, so he wouldn't have to face the agony of seeing his daughter die again. However, once he met Miseng, he found another purpose as the emptiness inside him was fillled, and now he is climbing the tower to protect her.
Powers and Abilities
Edit
Akraptor fights using his weapon. It looks like a lance when he attacks and opens like an umbrella when he blocks. He is able to shoot Shinsoo using it. There is also some capability to manipulate shinsoo to float around, as shown in Zygeana
Hon Akraptor's first appearance is in Season 2 Chapter 2. Kang Horyang and Ja Wangnan felt that he is dangerous, though he seemed to be docile. He said it would be a waste of effort to fight, but began to show his true colors by proposing a vote on who would fail. Akraptor voted for Miseng, surprising everyone and upsetting Goseng. He told them that that was a better method than fighting it out. He prompted the next person to vote and Ja Wangnan voted for Akraptor. Akraptor shrugged this off and asked what Horyang thought. Before he could respond, Viole stood up and announced that he would drop them all.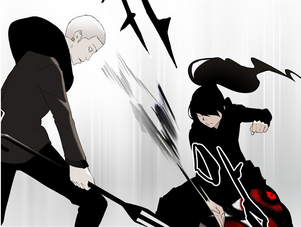 Irritated by this, Akraptor pointed his umbrella-like weapon at Viole and told him to repeat himself, but Viole simply attacked him. Akraptor was surprised at Viole's speed and strength, sensing that he was dangerous. When Horyang stepped in to try to convice Viole to stop, Akraptor fires at them both, only to pretend it was an accident. The second time he did this, Horyang counterattacked, and Viole was able to blast them both away. Once Goseng identified Viole as a member of FUG, Akraptor realized that fighting Viole head on would be dangerous and proposed to Horyang an alliance "in order to survive that monster." Horyang pinned down Viole, and Akraptor managed to get a shot at him, but it was blocked. Viole then lauched himself away from Horyang and to attack Akraptor on the other side of the room. Akraptor opened his weapon (umbrella style) to stop Viole's retaliation, only to be blasted away again by a delayed Shinsoo bomb. When Wangnan manages to knock Viole down, Akraptor yelled at him to seize the chance to attack again. The first part of the test ended before anyone was seriously hurt.
When everyone was waiting for the other Regulars to arrive for the second part of the test, Miseng offered chips to eat. Akraptor held out his hand while saying, "Hmph. Something like chips..." As a result, she gave this to everyone (including Viole) except Akraptor. After Viole was given chips, Akraptor looks at his empty hand.
In the World's Strongest Regular Test, Akraptor managed to place first among the first 18 regulars with 3,250 points. Horyang and rest of the regulars all bested this score. After seeing Yihwa fight with Prince over their scores, he laughed at them and said that they weren't getting first place anyway. He told all the others that Viole was the strongest Regular (this is technically incorrect, as Viole/Baam is an Irregular, though this fact is not known by the others). He smirked when Viole gets first place, having been proven right.
When Test Administrator Love announced that Viole would be picking the remaining seven members to make a team, Akraptor was the second person to make a plea to Viole. He got on his knees and said that he wished to meet his daughter with tears in his eyes. Wangnan called him out on this, saying something like that wouldn't make sense. When Miseng cried out to Viole, Akraptor claims her as his daughter (perhaps as a half-joke). He was shocked when Viole announces that he would not accept any teammates and appeared unsettled when Viole declared himself as their enemy.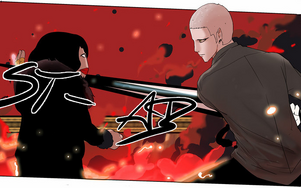 He went to rest in the baths with the others, and appeared to strike up the beginnings of a friendship with Horyang. He also violently shooed Yeongsuk away from Miseng, finding the former a dangerous person.
During the Untrustworthy Room Test, Akraptor left his room with Horyang to look for allies. He tried to get into Miseng's room but was kept out, and so started playing a word game with her until Yeongsuk arrived, When the latter revealed her plan to attack Miseng, Akraptor fought and defeated her, and subsequently tied her up. Afterwards, he, Goseng and Wangnan were forced to enter Miseng's room to avoid Viole. He went with Wangnan to steal Yeongsuk's room. When Nia's betrayal and death occurred, Wangnan left the room in order to get Viole, forcing Akraptor to stay behind. After the test he was seen with the rest of the passing Regulars.
While preparing for the next test, Akraptor was living with the others in the house Viole bought for their use. Akraptor took on the role of a reasonable and calm parental figure. When Yihwa was brought back after confronting the FUG members in the shopping district, Akraptor reasoned with her by telling her that she needed Viole since she could not control her own powers.
During the 21st Floor test, he split off into a group with Wangnan, Miseng, and Goseng to search for the flower of Zygaena. While waiting for Miseng to come back after entering a tunnel, he and Wangnan went to look around by themselves. Noticing Wangnan's serious face and his sudden effort in training after meeting FUG, Akraptor questioned him. Wangnan informed him that if they fail any tests, one of Viole's friends would die. They arewerethen informed that they must meet up to defeat an enemy. Akraptor cooperated with Wangnan to stop the enemy but like the others, they failed. Akraptor stood with Horyang and Wangnan, all of them visibly shaking, to face the man that so easily defeated them to prevent him from killing Viole. The enemy spared them because of Viole's actions and they were surprised to learn the man they were fighting was Urek Mazino.
After passing the test, Akraptor, along with Horyang and Prince, give Wangnan their support in helping Viole meet his friends. 
Akraptor lured the enemy team to a clearing in order to paralyze them with Miseng and Goseng's lighthouses. After they got blown up by Yihwa, he, along with the others rushed to Viole. Afterwards, he expressed his concern for the team, and advised Wangnan to rest for some months before continuing on.
Afterwards, he listened to Kang Horyang's story, and appeared to go to sleep with everyone else. However, he was actually awake, and confronted Viole when he goes to get Horyang back. He wanted to go as well, but lacking a vehicle could not. Yihwa then said that as a member of the Yeon family, she would be able to get a vehicle for them.
He along with Yihwa, Wangnan and Prince arrived at the Hand of Arlen only to find it blown up. They recovered Koon and brought him back to their bunker. When Koon awoke he explained the situation to Koon. Koon was about to walk out when Akraptor stopped him, saying that Team Tangsooyook would let go with Koon. when they arrived at Koon's bunker, they found Dan lying in a pool of blood, and Akraptor carried him out. In the following months, he along with the rest of the team trained under Koon, and he probably had the most confidence out of all of the team members. He tried to sleep, but couldn't due to Yihwa's explosions as she tried to train her accuracy in her flames. He passed the 29th floor test despite being tired.
Workshop Battle
Edit
Relationships
Edit
Ja Wangnan: Though they are part of the same team, Akraptor harbors a slight dislike for Wangnan due to his jokes aimed at him having a daughter. However, it appears that he is beginning to have some respect for Wangnan due to his planning skills and the empathy that Wangnan has shown. He has shown support to Wangnan's decision of helping Viole, even when Wangnan himself wavered.
Kang Horyang: Akraptor gets along very well with Horyang, especially after teaming up against Viole and then becoming roommates. He knows that Horyang has a crush on Goseng.
Yeo Miseng: Akraptor actively protects Miseng, treating her as if she were his daughter.
Yeo Goseng: Initially Goseng was antagonistic towards him when she thought he was picking on Miseng. They appear to have a good working relationship now that they are on the same team. He has nicknamed her "Glasses."
Jyu Viole Grace: Akraptor viewed Viole as a monster at first, but began to see a little deeper into his character during The Untrustworthy Room test. After passing the 20F, Akraptor seems to trust Viole a little and doesn't interfere in his personal business. He seems sympathetic to Viole's plight and is willing to help Viole meet his friends, an action that he knows is against FUG's wishes.
Yeon Yihwa: The two seem to have a good working relationship. Akraptor once gave her sound advice when she was being particularly difficult about Viole being a FUG member, telling her that she needed to realize the reality of her not being a beneficial member in any other team than theirs because of her inability of control her powers.
Prince: Akraptor likes to pick on Prince since he is so easy to rile up.
Notes and Trivia
Edit
It is implied that Miseng reminded Akraptor of his actual daughter so he tried to avoid fighting her during the first test on the 20th Floor.[1]
It has been hinted that Akraptor has a grudge against the current system. First, he and Horyang have a conversation where they both decide that teaming up with a FUG slayer candidate and becoming an enemy of Zahard isn't such a bad thing.[1] Second, he has a small flashback about his daughter being taken away from him.
References
Edit