Hatsu
Information
Korean Name
하츠
Status
Active
Location
30F
Position
Scout
Family
N/A
Age
Height
167 cm
First Appearance
Last Appearance
"You bastard! How dare you mock the way of the warrior?! There is no act more manly or noble than the Halbok!!"
- Hatsu to
Koon

Hatsu (하츠, Hahcheu; or "Hatz") is a Regular and a "devoutly" practised swordsman. He teamed up with with Anak and Ship during the first test on the 2nd Floor, and later signed Koon's friend list. He is a quiet and calm warrior, who has been making good progress in the tests merely by doing exactly what each test entails.
Background
Edit
Hatsu comes from a humble background, from a family with no particular fame. He credits his love for the sword to his father, a potter. Koon calls him a "country bumpkin" and assumes Hatsu is from a more rural area of the tower, to which he does not deny.
Personality & Appearance
Edit
Hatsu is a dark haired boy. He is well muscled, although very thin. He wears a black and maroon robe with an orange cloth around his waist.
Hatsu's actions are dictated by a code of honour drilled into him since he was a child. This includes repaying debts to other people, and not betraying one's teammates. He expects others to follow and is enraged when encountering people who don't (Koon). He also finds it hard to comprehend people who would betray their own teammates out of cowardice, exemplified when he trusted Parakewl in the Hide and Seek Test.
Apart from outbursts when his honour is insulted, Hatsu is generally very cool headed, being able to think quickly while fighting. He is quiet and does not socialize much, at times being abrasive and having difficulty recruiting friends. Nor does he know much about the sexual aspect of life, not understanding why people would want to look at Androssi in compromising garments or positions. His ineptitude is also seen when he turns his face away without blushing or changing his neutral facial expression after Androssi comments that he is quite handsome.
Hatsu appeared on the second floor with all the other Regulars. He encountered Anak and began to fight her. Ship Leesoo then turned up, but both Hatsu and Anak completely ignored him. Subsequently, It was announced that the Regulars had to form teams of three, and Hatsu and Anak stopped fighting immediately and teamed up. They continued to ignore Ship, but as he grabbed them they ended up on a team with him.
Hatsu then passed the barrier and the Door Test without much trouble owing to Leesoo's high intellect. Ironically, he and Anak were almost disqualified when Leesoo had trouble getting through Lero-Ro's barrier.
He took part in the Crown Game with Anak and Ship. He was able to defeat most of the regulars who attacked him. However, Phonsekal Laure blasted him away with his Shinsoo. After Anak defeated Laure and made a bet with Baam, Hatsu watched the rest of the Crown Game in a moody fashion. At the end, when Anak was about to attack Androssi, he stopped her reminding her of her team. He recieved an icy response.
Hatsu was put in the
Scout
position for training. During the lessons, he tried to get
Koon
on his "friends" list. At first, they hated each other, but
Baam
helped to cool down the tension between them, and he became

Koon's friend.
He was put on Team B for the Hide-and-Seek test. He travelled with the Spear Bearers on the team, both of whom were very annoyed until Hatsu beat them up. He sensed Quant's ominous presence approaching by using his Shinsoo, and told the Spear Bearers to run and throw spears from a distance. Hatsu sensed that Quant was very angry, making the Ranker even more dangerous. He drew his swords and prepared for the coming onslaught. When a Lighthouse revealed Quant, Hatsu blocked his attack, and began to fight him. He noticed that while Quant moves were possible for a regular human, they had been honed to a level that was beyond human capability, and into the being that was a Ranker. He decided that he to finish the battle while Quant was still toying with him, and leapt into the shadows. He came out at high speed attacking Quant, but the Ranker simply grabbed him in midair and slammed him into the wall. However, Hatsu was able to remain consious, and grabbed Quant's hand, saying that he would not let go, and telling Parakewl and Mauchi to fire, not knowing that they had fled.
In the discussion the regulars had after Baam revealed himself as an irregular, he was the first to speak of Baam in a positive manner. When Koon acted like he was abandoning Baam for being an irregular, Hatsu became enraged and was about to attack him, calling him a coward.
In the Submerged Fish Hunt, Hatsu plays a minor role of watching the thieves' movements. After the test, he became annoyed with Parakewl who was only concerned about whether they had passed or not since this went against the code of honour he had been raised to. When Parakewl mentioned that Baam was dead and kept using the word dead, Hatsu threatened to kill him. He felt obligated to Baam and influenced everyone to help Rachel climb to the top of The Tower.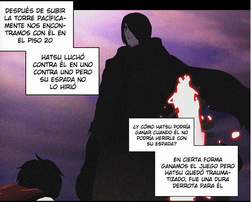 Hatsu is now a great and powerful swordsman in
Part II
, recognized throughout The Tower for his skill. He is rumored to have fought the "Devil of the Right Arm" during the timeskip. Though he was strong, neither of his swords could pierce Cassano's arm, and the result was a crushing defeat. One of his swords may have shattered, as we only see him carrying one in the second part. Afterwards, he trained relentlessly to strengthen his sword to be able to pierce Cassano's arm.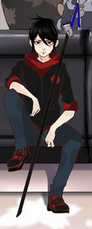 As the Hand of Arlen was blown up, he along with the rest of his team watched the news grimly, believing the reports of Koon's death. When the invitation to the Workshop Battle was sent to Ship's pocket, he wordlessly followed Leesoo to the next floor.
Workshop Battle
Edit
When they arrived at the 30th floor, Ship was goggling at the enormity of Archemides , annoying the highly introverted swordsman. He mock-swung his sword at Ship, sobering the atmosphere by reminding them of the mission: to kill Jyu Viole Grace.
One shot, One Opportunity
Edit
He, Leesoo and Anak were running towards the centre of the city where there would be bullets when they ran into Androssi. He lashed out at them when they started randomly supported FUG, and the three of them mounted an attack on the place where Viole's team were staying. He launched an attack on Cassano immediately, although this only served as a warning. They sparred for a bit, and when Cassano claimed his weapon was far stronger, Hatsu told him to check again. On doing so, Cassano was shocked to see his arm had cuts where Hatsu's sword had penetrated through. He thought that Hatsu had used some sort of trick, but Hatsu simply said he trained to increase the power of his cuts. He then thanked Cassano for helping him grow stronger and return with a stronger weapon. He then used Spectral Dance to inflict deep cuts on Cassano.
Powers & Abilities
Edit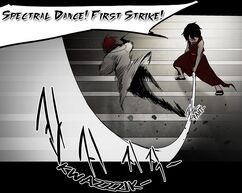 Swordfighting Skills: Hatsu is a very good swordsman, wielding his swords fast and precisely. He is well trained, is strong physically, and can easily best multiple Regulars in a swordfight. He was even able to hold off Quant for a short time. His training also gave him an almost exceptionally powerful grip, such that he may grasp whatever he chooses without fear of losing his hold over it. His grip has proven capable of even restricting the movements of a Ranker.
Sword That Flies Higher Than Any: This sword has a blue hilt with a red tassel on it. When Hatsu throws is intothe air, it will move on its own, attacking and blocking for Hatsu in midair.
Sword That Flies Lower Than Any: This sword has a red hilt with a blue tassel. This sword can emit a small but potent blast wave when Hatsu swings it hard.
Shinsoo Detection: Hatsu can detect the Shinsoo of others at a long range.
Spectral Dance: First Strike: A powerful sword technique Hatsu can use, strong enough to crack stone.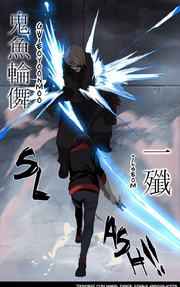 In part 2, his fighting style is similar to his initial one. He now has one sword instead of two, but can still execute Spectral Dance. His swing is much more powerful, and his control over shinsoo has improved. He can now issue large shockwaves that are yellow and blue from it, but the power is "only" average for an E-class regular. His spectral dance is now much stronger, being able to breach Cassano's defences, one of the stronger E-class regulars.
(Found on author's blog and translated by Greenanatoly Edited by Kroll Source Here and Here)
Relationships
Edit
Ship Leesoo: These two get along well. While Hatsu didn't want to associate with Anak anymore after the teams dissolved, he still socialized with Hatsu. They went friend hunting together, trying to fill up their friend list. Leesoo often acts as the glue and mediating force between Anak and Hatsu.
Anak: These two do not get along and often disagree on things. While Hatsu tolerated her selfish actions to a certain point when they were on the same team, he didn't wish to be associated with her anymore after the teams dissolved. Ship Leesoo is usually the reason why they can get along.
Baam: These two are good friends. Hatsu seems to like and appreciate Baam's honesty and desire to help others, regarding their friendship highly. They can sometimes be seen socializing outside of tests. Baam has helped Hatsu fill out his friend list. Hatsu is quick to defend Baam and was angry on Baam's behalf when it appeared that Koon was abandoning Baam. When Baam was thought to be dead, Hatsu was the one to propose helping Rachel because he felt he owed it to Baam.
Koon Agero Agnis
: These two are friends, though they like to make fun of each other. Hatsu calls Koon "ear decorations" and Koon in return calls him "halbok warrior." They are often able to get a rise out of each other. Though Hatsu was the one to propose helping Rachel, he seems to follow Koon's lead on how to do it, letting himself get seperated into another team.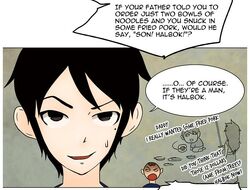 Notes & Trivia
Edit
It is implied that Hatsu entered the Tower because he seeks honor and pride (명예와 긍지).[1]
As a humorous reference to old school yakuza manga or movies, Hatsu's defeated opponents were piled on top of one another, during the Crown Game.

Hatsu's opponents piled up on top of another

Added by

Tofu21
Hatsu may be of a descent similar to that of the Japanese, considering: his choice of weapon (katanas), the kimono like clothes he wore in Part 1, his overall samurai like demeanor especially his views on halbok (it is similar to the Japanese samurai's perspectives on seppuku), the references to the yakuza (as mentioned above), and above all, his name. 'Hatsu' is not an uncommon name in Japan, often meaning 'first/beginning' (though the meaning can differ greatly depending on the Kanji chosen).
"Trusting your allies is obvious." -Hatsu to Ship Leesoo
Alternate Translations
Edit
(Korean Pronunciation) Ha-cheu
(SIU) Hatz
References
Edit
↑ Tower of God Part I Preview