Ha Yuri Zahard

Ha Yuri Zahard

~500

Status:

Active

Sobriquet:

Black Snake Head

Age:

618~

Height:

180cm

Birthplace:

Ha Family House

Fisherman

Korean

하 유리 자하드
"End what? This test was nothing but bullshit from the beginning!"
- Yuri to Evan Edrok
Ha Yuri Zahard (하 유리 자하드, Ha Yoori Jahhahd; or "Ha Yuri Jahad"), more commonly known as Yu​ri Zahard (lacking her family name), is a High Ranker and Princess from the Ha Family. She is also the owner of Black March and Green April, two of the 13 Month Series. She is the first Princess to own two 13 Months at the same time since Garam Zahard. Notably, she is one of the most famed Princesses, and perhaps one of the most favored.
Background
Edit
By climbing the Tower and becoming a Ranker within 200 years and by becoming a High Ranker within 100 years of becoming a Ranker, the genius Fisherman Yuri Zahard had her ability recognised and was bestowed with the 13 Month Series. In the last 500 years, she was the only Princess chosen to become a formal Princess and to receive a 13 Month Series. And it seems the Black March was awarded to her not too long, before the events in Ch 2. Despite her Ranking, she has been revealed to be one of Zahard's favoured Princesses, second only to Adori, due to her rapidly rising Ranking, popularity in the Tower, and her performance in recent duties concerning the 13 Month Series.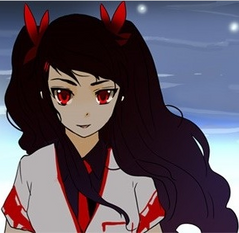 Her position is Fisherman and she is famous for the achievements of climbing the tower in just 200 years, and becoming a High-Ranker within 100 years after she had become a Ranker. She is a prodigy among the Princesses, and is even able to hold a firm attitude towards Maschenny's threats. According to Androssi, she is vicious in combat and dreaded by most rankers.
However, in Ch 25 Author notes, she is one of the characters who has the widest amount of acquaintances. She is relatively sociable for a Zahard's princess and Yuri gets along quite well with the members of the Walhaiksong. [1].
She is not actually a Walhaiksong member, but she was one of the many rankers present during the planting of the Wingtree. Therefore she has an friendly affiliation with the group.
Appearance & Personality
Edit
In Part I she wears a white long-sleeved jacket, black shirt, red tie, red skirt and brown leggings. She ties her hair in a ponytail, with a red hair ornament on the left side of her head. She has the crest of Zahard on her tie.
In Part II, she is seen wearing a long sleeved pink business shirt, with a long maroon skirt and matching blouse. She wears an overcoat with red and black fluff in royal appearances. She is seen without her tie at this time.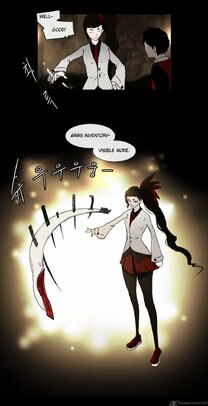 When she heard an Irregular had come into the Tower, she immediately went down to Headon's Floor with Evan Edrok and met Baam. She decided that he did not seem that powerful, and criticized Headon for giving him a tough test. When Headon said he would not change the test, she chose to lend Baam the Black March so that he could pass the test. When Baam disappeared with Black March after popping the Ball, she organized a team of Rankers to invade Evankhell's floor and to find Baam.
She was later seen with her newly formed team of Rankers making their debut.
Her team was seen resting on the corpse of some gargantuan monster. She seemed increasingly annoyed with how long it was taking to get to the Second Floor.
In the Submerged Fish Test, she finally found the Regulars in their current testing district, and stumbled upon Ship Lessoo, asking him for directions. She eventually found and witnessed Ren attacking Androssi and Anak. She interrupted, pelting Ren with stones from the shadows before she showed herself, confidently introducing herself as the "two ugly idiots' 'older sister.'" Having struck fear in Ren's heart, Ren shortly stuttered and seemed to have regretted angering the Princess with his short outburst. Having his knowledge of his authority returned to him, Ren quickly reassured that as a RED unit, he had to carry out his mission, and continued. Yuri threatened that she would kill him if he didn't back off, to which Ren tried to supress his excited murderous urges and failed. He attacked her with dozens of fish which she dispatched within the blink of an eye.
She was however prevented by Evan from finishing him off as it would become complicated. She instead began to walk away, as she gave Kurudan the signal to kill Ren. In the container "Yuga's" last moments, Ren described Yuri as truly fearsome, but then immediately (but shortly) as he said in his own death, he assured Baam's too. Yuri decided to destroy the entire arena and end what she felt was a bullshit test. As Yu Han Sung tried to intervene, Yuri mentioned she will destroy him once she is done with the arena. Evan told her to stop telling her this was a test set by the Guardian of the Floor and this was all part of his plan. Yuri then asked Androssi whether Baam could face the Bull or not, to which she confidently replied he could, as she (Androssi) promised to go on a date with him once he returned (presumably to annoy Yuri). She then took the Black March and Green April, much to Anak's dismay, and left, guided by Evan.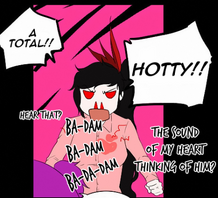 In Zahard's 5th Floating Castle, Yuri is on her way to meet her older sister
Repellista Zahard
. On the way, she meets another one of
Zahard's Princesses
, the extremely haughty
Koon Maschenny Zahard
. they have a brief argument over the
13 Month Series
weapons they both have in their possession when Yuri complains about all the fuss people make over the Royal Family of
Zahard
.
After this, Alumik Edrok, Repellista's butler, states that they get along so well, and offers to make tea. Maschenny bluntly refuses and takes her leave. Yuri then continues to Repellista's room, where she asks for help in finding Baam, due to him being "a total hotty". Repellista accepts, with the deal that Yuri would find an object of value for her in return.
Powers & Abilities
Edit
In Part 1 of ToG, Yuri is the most powerful character seen in action. Even when regarding the fact that there are close to 1000 other High-Rankers, and many other Zahard Princesses, Yuri is without a doubt viewed as one of the strongest characters, as well as in all the chapters yet to come. Even as a Princess, she is considered a genius as it took her 200 years to climb the Tower when the average time is 500 years. She then took only another 100 years to attain High Ranker status. Even now, she continues to scale up the ranks.
Super Strength, Speed, and Agility: Even as a Princess with the power of Zahard, Yuri is still a High-Ranker, and is incredibly powerful. To add to this, she hails from the Ha Family, and is blessed with incredible physical attibutes. Her strength, speed, and agility are so advanced to the point that she can move short distances seemingly faster than light, and can also create a fissure by just flicking into nothing.
Zahard's Strength: Being a fully pledged Princess means that Yuri is incredibly strong and resilient, to the point where she can destroy a horde of giant Shinheuh with no trouble. She can create a crater just by flicking her finger and she is also able to destroy or even lift an area as large as the location of the Submerged Fish Test.
Arms Inventory: Yuri has lots of weapons, whose power is unknown so far (other than the Black March). A great majority of them are needles, further proving her true skill as a Ha Family Fisherman. Yuri is one of the few Princesses bestowed a 13 Month Series, the Black March, and is well known for it. Recently, she is the new wielder of the Green April, making her the second person since Garam Zahard to have wielded two 13 Month weapons (although she's annoyed hearing about it).
Massive Influence: Being a Princess of Zahard, Yuri can mobilize royal forces to work for her. However, since she is incredibly strong, this is not necessary.
Relationships
Edit
Yuri Zahard currently has a partner; an A grade Guide, Evan Edrok.
She is acquainted with an Irregular, Urek Mazino, and seems to have interfered in creating an organization called Wing Tree, or Walhaiksong. She evaluates Urek as 'the best to fight with, but the worst to live with.'
Yuri Zahard is also known to have met another Irregular, Phantaminum, in the inner palace of Zahard, but she didn't say anything about the matter except for 'He was a messy one.' For some unknown reason, she seems to have an affinitive liking to Irregulars, shown by her confidence in Urek Mazino's strength, and her desire for Baam to reach the top.
It's known that Yuri has a large amount of faith in Baam's abilities. She gives Baam the Black March during his first test despite Evan's protests, also risking her reputation. When she went to retrieve the Black March, she implies that she's planning on giving Kurudan's Wing Tree to Baam. During the Submerged Fish test, with encouragement from Evan and Androssi, she once again puts her faith in Baam's ability to survive.
It was revealed in Vol.2 Ch.0: Season 2 Prologue that Yuri has been covertly searching for Baam for the past five years, even though he was declared deceased on the 2nd Floor. When asked why, she answered "He's not someone who'd die like that."
With the birth of Yuri (who greatly resembles Ha Yurin), the Ha Family placed their faith in her, hoping that she would collect all 13 Month Series weapons. Because of this, Yuri's title takes after her great-grandmother (Black Snake Head).
Notes & Trivia
Edit
Her nickname is "Zahard's Effenberg" (Ch 35). Stefan Effenberg is a German football player (in American terms, soccer player). Effenberg was known for his rough behavior on the field and rude behavior towards the fans.
Yuri's ranking got much higher after getting the Green April. Many residents of the palace talk behind her, "Despite incidents, capable girl is capable," but Yuri expresses her high satisfaction by admitting that she is a "capable girl."
It is recently revealed that Yuri is obsessed with a virtual boy simulation game introduced to her by Repellista Zahard. Apparently, she can't refrain from playing it since it features a character that resembles Baam.
References
Edit
http://www.batoto.net/forums/topic/9764-togs-gossips-from-sius-blog/