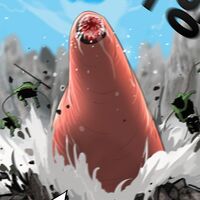 Giant Marsh Worms is a creature bred by the Barnacle Goblins at the Second Floor of the Tower . They have the ability to freely alter their body's and mouth's shape. Using their mouths they are able to dig through the thin crust of the pit to reach the waters of the Wine Glass where they then use their mouths to suck up the fish.
Ad blocker interference detected!
Wikia is a free-to-use site that makes money from advertising. We have a modified experience for viewers using ad blockers

Wikia is not accessible if you've made further modifications. Remove the custom ad blocker rule(s) and the page will load as expected.