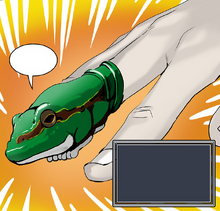 Frog Fisher (개구리 피셔, Gaeguli Pisyeo) is an item owned by Evan Edrok.
It possesses five "desires",[1] three of which have been revealed:
Third Desire: Hunger: This desire proved capable of absorbing a huge shinsoo attack from Karaka with ease.[1]
Restoration: This desire can return an object to its previous state. It was able to restore a bridge partially destroyed by Karaka, with the latter being amazed by the item's power.[1] SIU notes that the period between the past and current states is limited; it cannot restore anything that exceeds this limit.[2]
Destructive Urge This desire creates a huge blast.[3]
References
Items

Miscellaneous
Devices
Weapons
Ad blocker interference detected!
Wikia is a free-to-use site that makes money from advertising. We have a modified experience for viewers using ad blockers

Wikia is not accessible if you've made further modifications. Remove the custom ad blocker rule(s) and the page will load as expected.