Vol.1 Ch.34: 2F - Zahard's Princess (4)
Comments

0
511pages on
this wiki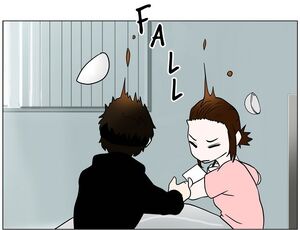 Chapter 34
: In the
Wave Controller
class, the
Regulars
are practicing shooting balloons with
Shinsoo
.
Ho
and
Baam
are both able to shoot two, and later Baam reveals that
Laure
has been giving him lessons, apparently because Baam found Laure's pillow at some point. Ho leaves and is annoyed at how well the other Regulars are doing, and ominously passes by
Hwa Ryun
.
Meanwhile, Koon lets Baam in on the news that Anak and Androssi are on the verge of failing the Fisherman test due to their previous fall and injuries. They then discuss the cruel fate that some Regulars will fail, which saddens Baam a little. The topic suddenly changes and they hatch a plan to make Androssi their friend.
Androssi, still injured, lays on her bed. Her poor status in the test means that she can't afford food, leaving her hungry as well. Just then, Baam comes in and brings her food. However, there's a catch - she has to sign a friend sheet before she can get the food, now suspended in the air by a rope. Baam tells Androssi that the food is Steel Eel, to which Androssi replies that she doesn't eat meat. Just as planned! Baam responds by telling Androssi that she looks thin and should eat hearty things like Steel Eel every once in a while. Androssi, flattered, goes along with Baam's deal, though they argue a little bit about how far down on the friend list Androssi is, which causes Baam to accidentally let go of the rope, making the food fall over the both of them.
Back in Anak's room, Ship tries the same tactic. This time, it doesn't work as well - Anak threatens Ship, who obediently lowers the food.