Vol.1 Ch.2: 1F - Headon's Floor (2)
Comments

0
510pages on
this wiki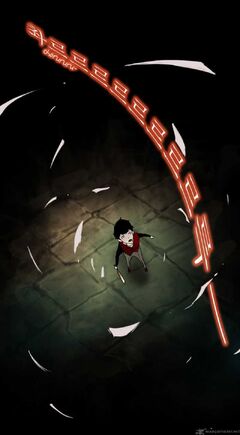 Chapter 2:
Yuri
and
Evan
go down to
Headon
's
floor
to see the new
Irregular
... but are dissapointed when they see
Baam
.
Evan
states that he does not feel the same strength coming from Baam as he did from
Urek
, and doubts that he will be able to beat the
White Steel Eel
. Yuri, however, takes a liking to Baam, and jumps down, despite Evan telling her not to. In doing so, she kicks Baam in the face. Then, Yuri makes Evan give Baam an A-grade
Pocket
. She also asks Headon to make the test easier for Baam, and Headon agrees to let Yuri give Baam the
Black March
, which she does. Evan asks why she did this, and Yuri says she simply took a liking to the boy. Meanwhile, Baam enters the Steel Eel's cage and begins the test.
It's still unknown how Yuri heard that an Irregular had entered the Tower.
Characters Introduced
Edit