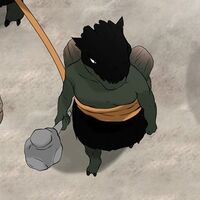 The Barnacle Goblin is a creature that can be found at the Second Floor of the Tower. It's also referred as "thieves" because they steal the fish the Mangdol Whale have gathered at the Wine Glass. The Giant Marsh Worm they breed are capable of retrieving the fish from worm's stomach. Since the Barnacle Goblins depends on the Mangdol Whale for survival, they have a bad relationship with the Striped Ground Pig who is the natural predator Mangdol Whale.
Ad blocker interference detected!
Wikia is a free-to-use site that makes money from advertising. We have a modified experience for viewers using ad blockers

Wikia is not accessible if you've made further modifications. Remove the custom ad blocker rule(s) and the page will load as expected.