Arms Inventory
Comments

2
509pages on
this wiki
The Arms Inventory (암스 인벤토리, ahmseu inbentori, "Arms Inventory") is one of the three major kinds of inventories in the Tower. It is used for storing weapons. Similar to a Pocket, it has a Visible Mode and an Invisible Mode. There are probably Grades of Arms Inventories.
---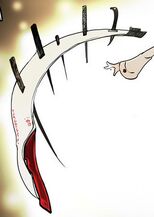 Note: an Arms Inventory shouldn't be confused with the Reel Inventory which is simply a line attached to and wound around the Arms Inventory.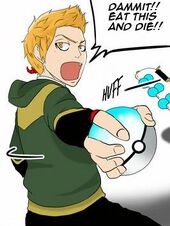 Arms Inventory is the basic armament used by all Fishermen, but it is not restricted from use by other Positions. Arm Inventories are customised for the storage of each user's weapons. For example: Wangnan's Arms Inventory has no slots for storing needles, swords, hooks, etc. because he uses only bombs.
For example: Anak's and Androssi's Arms Inventories have slots for storing needles, Hooks and swords like Black March, Green April, Narumada and so on.
As a Fisherman becomes more capable of wielding different types of weapons, he or she will be proven worthy of obtaining Arm Inventories capable of storing more weapons (more slots, ability to store more types of bombs, etc.). For example: Yuri Zahard has an Arms Inventory with 5 slots.
Carrier is a special type of Arms Inventory that combines the functions of a Pocket, a Lighthouse, and a Pipe. This allows a Fisherman to fill any position, although actually not very practical.
In chapter 44 Androssi Zahard uses the needle from her Arms inventory to destroy a Lighthouse and to draw a circle around her team mates.
A top class Inventory is the Rainbow Undecimber.