Apple



Status

Active

First Appearance

Chapter 103

Last Appearance

Ongoing

Age

Unknown

Height

Unknown

Scout / Light Bearer

Korean

애플
Apple (애플) is a regular and an Information collecting type Scout and Light Bearer currently on the 28th floor. She is a regular that was contacted by FUG to infiltrate Koon's team and kill him.
Apperances and Personality
Edit
She wears a lot of make-up, having pale skin, red lips, and purple skin above her eyes. She is reserved and dresses neatly. Her hair is blond, and kept short.
Powers and Abilities
Edit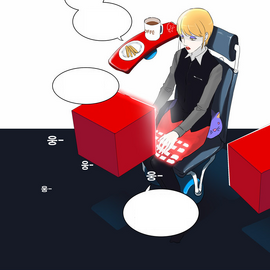 Her powers and abilities are unknown as of now. It is natural that she is a highly accomplished Scout to be recruited into Koon's team. She can also act as Light Bearer and control at least two lighthouses and a keyboard, all of which are red.
Connecting Fences
Edit
She is first shown when Novick introduces Dan to the rest of the group. She along with Michael and Gyetang forfeit when Novick challenges all of them, and watch as Novick quickly defeats Dan, then is quickly defeated by Ran. She then listens with the others as Koon reveals his plans, and warns them against Rachel .
Devil of the Right Arm
Edit
She notices the picture of Cassano and locates his position, informing Koon after the team completes the test on the 29th floor.
(Vol.2-Ch.48) Koon realises that Apple send them into trap.
Apple calmly informs Dan that FUG hired her and Michael to kill Koon. Apple says it would be best to kill Dan since he knew their secret but Rachel suggests that he act as her legs.