Androssi Zahard Part I

'

Status

Active

First Appearance

Chapter 13

Last Appearance

Chapter 78

Age

300~

Height

167cm

Fisherman

Korean

엔도르시 자하드
Androssi Zahard Part II



Status

Active

First Appearance

Chapter 116

Last Appearance

Chapter 116

Age

308~

Height

167cm

Fisherman

Korean

엔도르시 자하드
"Sure, you can say Anak is a Princess... But she's really a fake. However, I'm a genuine Princess. One of the many Princesses in Zahard's cabinet of display shoes."
- Androssi Zahard
Androssi Zahard (엔도르시 자하드 ) is a Regular and one of Zahard's Princesses, who has passed all the tests on the Second Floor. She is currently on the 30th Floor. She is very strong, and a bit haughty, although nowhere near as much as Anak. She got herself on Koon's "friend" list after meeting Baam.
She's currently an informal Princess and it's unknown what her ambition was when she was chosen to be a Regular and climb the Tower.
Background

Edit
In the days before she became a princess of Zahard, Androssi was adopted into a family branch of the Ten Great Families. The only Ranker of said family was the head of the family, so in order to gain more power, the head was determined to produce a Zahard's princess. Any girl who showed talent was adopted into the family and Androssi was one of them.
During training, the most successful candidates got to eat lavish feasts off a table with the most successful getting the higher spot and the best food. Androssi was not allowed to sit at the table, and was instead given stale bread to eat by the side. However, when she beat a candidate much larger than herself in combat, she was allowed to sit at the table. It is then implied that she killed every other candidate until she was able to dine alone at the table.
Appearance & Personality
Edit
Androssi is a fairly human-looking girl. She is very pretty, with short brown hair and yellow eyes. Her only nonhuman feature is a small horn on the right side of her head. She wears a yellow dress with two yellow pins on it and often has on high heels, which sometimes gets her in trouble during combat.
She is haughty, but quite friendly most of the time, probably from spending time with Baam whose actions such as going after Rachel appear to her as childishly naive. Before coming to the tower she was ambitious and only thought of climbing. She was extremely ruthless and didn't hesitate to betray "teammates" in order to climb higher in the Tower as seen in the Hide and Seek Test. However, once she met Baam and through him the rest of the regulars, she started to find out about friendship. She is still very authoritative, and good at taking control, similar to Koon. She seems to care about her appearance, as she was seen putting makeup on, even though being a Princess she is not allowed to date or marry. It is possible she does this just to make others more likely to obey her.
She seems to have a crush on Baam.
In part II, she retained her crafiness and cunning, and was able to manipulate Leesoo, although his thoughts were clouded when it came to FUG. She didn't retain her nicer personality that Baam brought out and became more self-centered after his "death".
Androssi arrived on the Second Floor with 199 other Regulars. She teamed up with Rachel and Akryung, and their team then wiped out all 197 other Regulars.
It's uncertain if her team took and passed Lero-Ro's Test and the Door Test before taking part in the Crown Game, which was held in another test center. Either way, once Yu Han Sung found out about the team, the Game was arranged in an attempt to get them up onto the next floor to avoid causing trouble (although Sung had other motives as well).
In the Crown Game, the team entered the battle in the last round. Androssi fought against Hwa Ryun, and seemingly outmatched the Regular, failed to stop Ryun from attacking Rachel. Her team won the Crown Game when Baam took down Ryun, but they decided not to move up.
Androssi was then placed in the Fisherman position. During training, she made friends with Baam, who tried to pair her off with Hatsu. She told Baam that her family had a rule against dating, and then Anak revealed that Androssi is in fact a Princess of Zahard.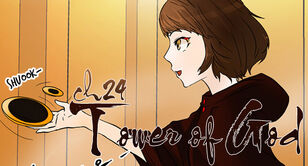 In an exercise, Anak attacked Androssi instead of going for the other Regulars. Androssi easily avoided her attacks, and played Anak in such a way that all of the other regulars were defeated by Anak, even though she was not aiming for then. Then Anak used shinsoo to enhance her power, and was able to land some strong blows on Androssi  but at the last second Androssi grabbed her foot and slammed her into a pillar from several feet up. Anak then told Androssi that part of the reason she had come to the tower was to fight her, and told Androssi a bit about her history. Before Androssi could win the test, her heels broke, and both her and Anak fell from their pillars and lost several points.
Androssi was seen talking to Rachel in the bathroom, and asked her why she was trying so hard to stay away from Baam, to which Rachel had no real response. Androssi told her to make up her mind.
Androssi was placed on Team B for the Hide-and-Seek Test. She stopped all the Regulars from arguing over a plan by simply putting forward a plan of her own and saying that if they did not follow it she would simply go and do it on her own. The Regulars "agreed" to her plan, which was to have all the Fishermen on Team B move together. Androssi travelled with Baam, Des Lion, and Hong Chunhwa, making good progress. She suggested they take a short break. When Hong complained, she started joking about how he would receive the "death penalty". She then asked Baam why he was looking so depressed, to which he replied that he is not sure why she chose him, as he is quite weak. Androssi told him that she was like him once, and then reveals her history to him. She then asked how he thought she got to eat all the food. Baam jokingly asked if she got all the other candidates to give food to her, to which she replied that he was being an idiot.
The group then received a communication that the Ranker had been spotted. However, instead of moving to escape, Androssi used her paintbrush to draw a circle around the group, and destroyed the Lighthouse that they were using to communicate. She said that anyone who stepped outside would be "executed", and then attacked the other Fishermen, saying they did not deserve to climb the Tower. When Des Lion tried to attack Baam, she slapped him outside the circle. She then yelled at Baam about how he was stupid to chase Rachel. When he left anyway, she turned on Des and Hong, and easily defeated them. Hong commented that she was a demon, to which she replied that everyone told her that before departing, and crushed him. She then took his ignition weapon Narumada and went off to find the others.
When she found them, she apologized (somewhat) for her betrayal, saying that she did not know any other way. She said that she would like to continue climbing the Tower with a certain someone, and then proceeded to taunt and engage in battle with Quant. She was surprised by the Ranker's skill, but with the Ignition Weapon she was able to hold her own. Eventually Baam helped her handle Quant by freezing him with shinsoo, and Androssi fooled him by replacing her badge with red panties, and as a result won the test for her team.
She later participated in the Submerged Fish Test with the Regulars, and was sent to fight the Bull with Anak. They got into an argument, and made a bet over who could beat the creature first.The bet being that if Anak lost, Androssi would claim ownership of the Black March. If Anak won, Androssi would become her slave. Androssi began to easily defeat it, but Anak stopped her from killing it and it was able to escape. Androssi chased after the Bull, until it lured her into the dark, where it revealed it's true strength and captured her. She was then taken to Ren and asked to kill Anak. Androssi acted like she was going to at first, but then teamed up with Anak to fight the RED operative. However, she was blasted badly with shinsoo and lost the fight. Later, when Yuri arrived, she said that she knew Baam would survive the test, as she'd said she'd go on a date with him afterwards (presumably to annoy Yuri).
Epilogue, Rachel
Edit
She did not attend the meeting after the test, possibly because of the aftereffects of being blasted by Ren. When she found out about Baam's death, she went up with the rest of the group, possibly to help Rachel climb.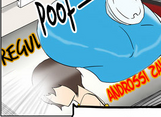 Nothing much is known about Androssi in part two except for the fact that she was climbing the tower in Leesoo's team. Based on the image from Volume 2 Chapter 1, she has become well known. This picture is from after Ja Wangnan failed his test, but before he gets visited by Kim Lurker.
Koon was contacting Leesoo, who told Koon about their failure to pass the test. Meanwhile, Anak, who was appointed goalie in their online game abandoned her post and tried to score a goal, prompting another fight. 
She watched, seemingly nonchalantly, as the news reported the death of Koon at the hands of the slayer
candidate Jyu Viole Grace. 
Workshop Battle
Edit
When she got there, she was immediately treated to an interview, which made everyone watching (except for Koon) fall over in adoration. Leesoo's interview was interrupted by Io, introducing the new game.
One Shot, One Opportunity
Edit
She got hold of four paparazzi and got them to tell the rest of her team where the FUG team was. Unknowingly to them, she had asked Emile where Viole was, and used the rest of the team as a distraction to get to him. She appeared, kicking Blue Dog in the head and sending it crashing into a wall before pointing a gun at Viole's head.
She then remarked that Viole looked like nothing she heard from the rumors, a brutish person with long hair, but noticed that he looked somewhat familiar. Momentarily caught off-guard due to Viole's gun appearing, she was shocked when Viole stopped her with a mysterious technique(Fast Skip). She tried to follow Viole and Traveller  when they escaped but was stopped by various anti-tank bombs that Traveller had used. She then pointed out that the technique Viole used was similar to Baam's just as another patrol appears behind her.
She then spent the rest of the game fighting off patrols, jokingly remarking that she had reached level 99 in doing so. She then notices Traveller running around and stopped him, demanding to know where Viole is, but showed utter shock when Traveller blurted out that he wasn't "Jyu Viole Grace" but he was "Twenty-fifth Baam".
Abilities & Powers
Edit
Androssi is exceptionally strong, even for a Princess. In Part I, she earned the spot as the strongest Regular. After the joint test, she was renowned for having fought on even ground with a Ranker.
Agility: Androssi has demonstrated agile and nimble movement in the battlefeild, on par with that of a Ranker's.
Excellent Physical Skills: Androssi is well trained in physical combat skills, and can easily overcome many other fisherman of her level. She is also one of Zahard's Princesses, and as such has received his power, giving her far greater strength and speed than a normal Regular. She was easily able to toss aside someone twice her size with one hand. It has been stated that currently among regulars, Androssi is unmatched in terms of physical capability.
Shinsoo Manipulation: Although it is clearly her least preferred form of combat, Androssi is adept at the use of Shinsoo, as demonstrated by the use of Narumada, which created powerful blasts of raw Shinsoo.
Lapel Pin Weapons: The two pins on her dress are actually arms inventories, when removed they expand and become large disks which float in the air near Androssi  and act as shields. The needles used to pin them to her dress also expand, and are used as weapons, and the string itself it also tough and useful. She has small Arms Inventory which she stores them in.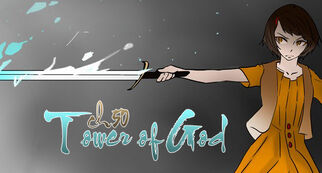 Paintbrush: Androssi has a floating red paintbrush. She can move it through the air at her command, without touching it. It can draw red lines in the air that just hang there. It is also quite fast and destructive, being able to disable a Lighthouse.
Narumada: During the Hide-and-Seek Test, Androssi takes possession of the Ignition Weapon Narumada. She uses it to create huge blasts of Shinsoo. After the test she returns the weapon to Hong Chunhwa.
Relationships
Edit
Rachel: Androssi teamed up with Rachel and Akryung in the first test and killed the other 197 contestants together. At one point she says that it feels like Rachel 'comes from a different world' than they do and feels they shouldn't fight.
Baam: She was initially indifferent about Baam until they talked to each other and she went on Koon's friend list. In her own way she cares about Baam by helping him out in tight situations. She is somewhat influenced by Baam's thoughts and seems to have a crush on him (still unconfirmed). For the time they were in the Second Floor together, she took on the role of being his coach in hand-to-hand combat. In the submerged fish test chapter, when Yuri Zahard asks whether Baam would survive the test, Androssi tells her that Baam would survive and not die. She also added that she promised to go on a date with Baam. Stating that Baam would defintely survive because it would be too unfair for him to miss the chance of going on a date with her. She was severely depressed when she learned of Baam's 'death' and supposedly became quite self-centered since his death.
Anak Zahard: Androssi and Anak Zahard have a sort-of sibling rivalry with each other and they usually fight with each other at any opportunity. During the hide-and-seek test, she reveals to Baam that she really wants to go up with Anak, and hints that her strategy of eliminating the Fishermen was intended to help Anak as much as herself. During the last examination, instead of following Ren's orders to kill Anak, she decided to team up with her to fight Ren.
Koon Agero Agnis: She doesn't think much of Koon but they seem to be on good terms with each other. They have often worked together and individually in order to help Baam pass the tests.
Ship Leesoo: Androssi is currently in a team consisting of the passing regulars from the Floor of Tests under the leadership of Ship Leesoo.
Notes & Trivia
Edit
She has a horn on her forehead. And it appears to be a racial trait.(종특으로 이마에 뿔이있다)

Androssi

 often makes shoes metaphors for the princesses of Zahard.
She features on the front cover of a magazine for promising regulars.
She appears to favor the colors red, yellow, and black.

For a Regular, even a Princess, she has started climbing at an extremely old age, at the age of 300.
"As I thought, you're too soft to climb the tower" to Baam
"You musn't hesitate to hurt people. But you can't do that, no, it's better if you don't. You're better off leaving this sort of thing to bad girls like me" to Baam
Alternate Translations
Edit
Andorthy Jahad
Endoreushi Jahhahd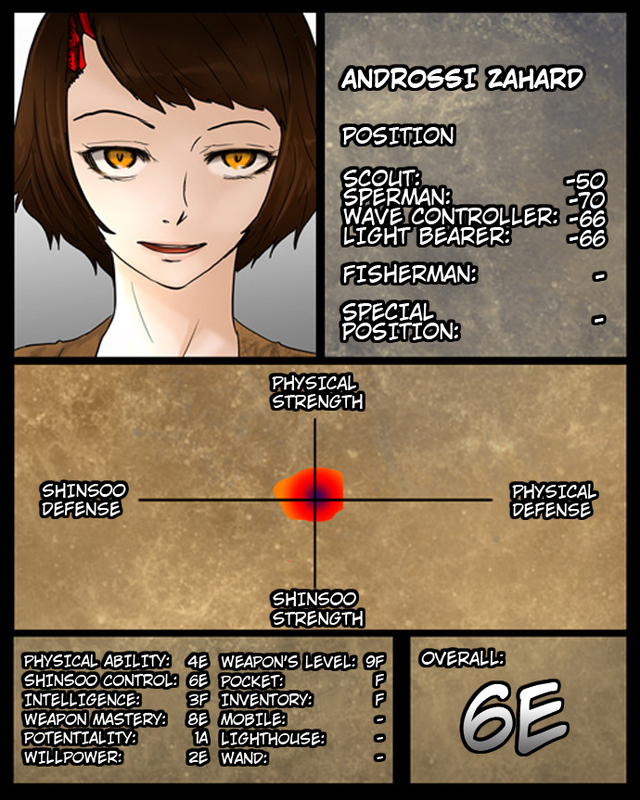 (Found on author's blog and translated by Greenanatoly Edited by Kroll Source Here and Here)