Anak Zahard Part I

Anak sitting like a Queen.

Status

Active

First Appearance

Chapter 6

Last Appearance

Chapter 78

Age

300~

Height

154 cm

Fisherman

Korean

아낙 자하드
Anak Zahard Part II



Status

Active

First Appearance

Chapter 116

Last Appearance

Chapter 116

Age

308~

Height

154 cm

Fisherman

Korean

아낙 자하드
"Everytime I see that Zahard's crest attached to your head I get the urge to crush you into a thousand pieces!!!"

- Anak to Androssi Zahard
Anak Zahard Jr. (아낙 자하드 Jr., Ahnahk Jahhahd Junior; or "Anak Jahad Jr.") is one of Zahard's Princesses. She is only a demi-Princess though (meaning half of her lineage is Zahard's blood), she also at a point possessed two of the 13 Month Series, something few Princesses have done. She is currently on the 30th floor of the tower. It is revealed in chapter 33 that she is in fact the daughter of the real Anak Zahard who was impregnated by her lover and ran into hiding. Her motive for climbing the Tower is for revenge.
Background
Edit
Anak had a difficult childhood, as her mother was an exiled Princess. Her parents fought regularly. Her mother cared for her though, and due to her situation, she was filled with resolve to climb the Tower. Her mother was killed by Ren, and her father was killed by an unnamed Zahard's Princess. After that, she spent most of her life on the 43rd Floor, along with Garam Zahard. She has only shared this with Androssi.
Personality & Appearance
Edit
Anak is very haughty and generally solitary. She rejects just about anyone trying to become her friends, and she treats her teammates in a very careless way. She considers herself superior to everyone else, due to her being a Princess (she is much worse in this respect than Androssi). She is overall pretty smart, although hardly a genius. She also has a quick temper. Her arrogance is beyond the level of thought before-hand, and she is quite lazy at times as well.
Anak is a green-skinned, slightly lizard-like girl, with medium length brown hair and brown eyes. She also has a noticeable tail, commonly exploited to call her a "lizard". She tends to wear an orange and black dress, which is fairly loose to allow movement in combat.
Anak turned up with the other Regulars on the second floor. She encountered Hatsu during the first test, and begun to fight him. Then Ship Leesoo turned up, and it was announced that everyone had to form a team. Hatsu and Anak teamed up immediately, but ignored Ship. Ship eventually managed to team up with them.
Anak got through Leo-Ro's barrier easily (she was the first one to cross it), and passed Yu Han Sung's door test without much trouble.
She participated in the Crown Game, and got the crown quickly. She sat on the throne while her teammates fought, but when they were overwhelmed she Ignited the Green April and destroyed all the enemies. She then noticed Baam carrying the Black March, and demanded he hand it over to her. Leo-Ro intervened before she could take it, and said that Baam's team would be given an opportunity to win the Crown Game: if they won, they got the Green April, if they lost, Anak got the Black March. Anak watched the remainder of the Crown Game in a rather sullen manner. She won the Black March when Baam lost.
She was then placed in the
Fisherman
position and seeded first. During the training, she sat alone during breaks and did not talk much to anyone. She had an encounter with
Androssi Zahard
during a test and fought with her.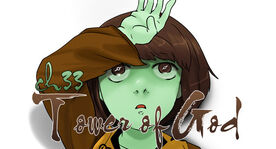 At first
Androssi
easily outmatched her, but the she used
Shinsoo
to enhance her physical abilities and charged at
Androssi
, throwing her in the air. However,
Androssi
showed her the difference between a "real princess" and a "fake" by turning the tables on her. Afterwards,
Androssi
lost balance near the edge of the pillar due to her high heels. Anak took this opportunity to push her off the edge, but
Androssi
grabbed her hand, begging her to help her "aunty". This led to a comical exchange between them, during which Anak pinched her arms, replying that she had plenty of aunts to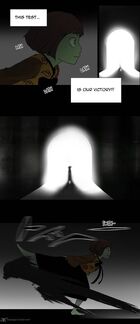 replace her. After the last pinch,
Androssi
let go of Anak's arm due to the pain, but before falling was able to grab onto Anak's foot, resulting in both of them falling off the pillar, and thus failing the test. Afterwards, Anak talked with
Androssi
and revealed how she was the daughter of the runaway princess, and that part of her reason to climb the Tower was to meet
Androssi
and kill her, along with the rest of the
Zahard Princesses
.
Androssi
said that she personally had done nothing to Anak, and so there was no reason to attack her. Anak seemed unconvinced, but nevertheless refrained from trying to kill her.
She was put on Team A during the Hide-and-Seek Test, and chose to be their "it". She tried to capture Quant with the Green April, but underestimated his considerable skill and only just managed to escape. Afterwards, she cooperated with Koon to fool Quant and almost made it to the exit, but was caught by Quant first.
Anak got paired with Androssi in the submerged fish test to defeat the Bull, but when it was weaker than expected for some "reason", Anak and Androssi started toying with it by playing a game of hunting in which they create a bet. If Androssi won, she would get the Black March. If Anak won, Androssi would become her slave. 
The Bull ran away, and Anak and Androssi were split up during their pursuit of it. Anak later encountered Ren, who said he was one of the people who murdered her mother. Anak went into a rage after hearing this and fought one of the Ranker's Anima, but was defeated. Androssi then gave back the Green April to Anak and they fought Ren together.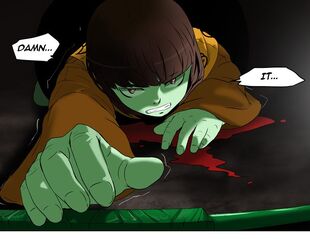 Although they experienced early success fighting Ren, they were still outclassed by the ranker, being easily defeated. Anak and Androssi were saved by the their older sister, Yuri Zahard, who entered the test area for Baam. Yuri then took the Black March and 
Green April, and sent Kurudan to finish Ren, and left saying the Green April is too big of a burden for Anak to carry and that if she wanted to have it back to come to her again with Baam.
Afterwards Anak ascended with Rachel and the other regulars to the Third Floor.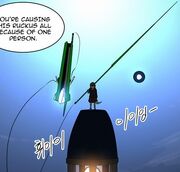 Anak lounged on her team's couch as she watched the announcement of Koon's apparant death. She went with her team to the Workshop Battle, to target Jyu Viole Grace. 
Workshop Battle
Edit
She commented on Leesoo's redescent into the gabbling annoying regular she'd first met. She was then present in the interview of her team, but wasn't interviewed herself.
One Shot, One Opportunity
Edit
She was the first on the scene toattack FUG with her steel spear. She was just there to put the FUG team on edge and stall for time as the rest of Ship's team got there. She then confronted Ran and Novick, who was blown away with a single blow, afterwards. She then fought to a standstill with Ran, both of them momentarily showing some of their abilities, until Viole arrives, shooting both of them with light bullets, and was sent, along with Ran, to the Archimedes
Abilities
Edit
Excellent physical skills: Although Anak is not an actual Princess of Zahard, she is still related to one and so has some of Zahard's blood in her, giving her enhanced strength and speed in combat. She is also extemely strong and resistant to blows. A single kick from Anak was enough to send Novick flying back as well as destroying the surrounding environment,  this is especially impressive since Novick is from a branch of the Ha family who are renowned for their physical capabilities as well.
Shinsoo enhancement: As if her combat skills weren't scary enough, Anak can use Shinsoo to further enhance her combat ability. When using Shinsoo, she is able to jump huge heights and also gains enhanced speed and reflexes.
Shinsoo Usage: In part II, she has been shown to be capable of using at least 4 Baang's of Shinsoo at once.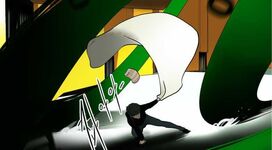 Green April:
 Anak formerly had the 
Green April
 in her possesion, and could 
Ignite
 it. In it's ordinary form, the 
April
 is a long and sturdy 
hook
 that Anak uses very effectively. When Ignited, it becomes a huge whiplike weapon which Anak can swing easily, and destroys everything. It can change its length and shape, and when Ignited even split into multiple branches. In the Crown Game she used it to such an extent against 
Laure
 that it practically became a forest.
Steel Spear: In part II she possessed a spear that most E-rank regulars cannot even lift.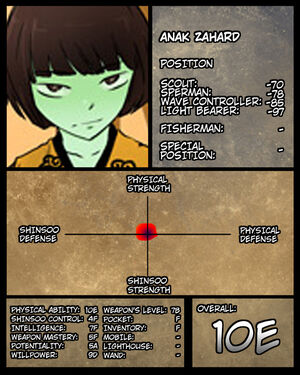 (Found on author's blog and translated by Greenanatoly Edited by Kroll Source Here and Here)
Relationships
Edit
Androssi Zahard: Anak regards Androssi as a rival, because she is a Princess. She does communicate with Androssi occasionally, but seems mostly hostile to her. Androssi seems to support the idea of Anak climbing the tower. After Androssi showed that she was willing to defend Anak against Ren, they seem to be more tolerant of each other. There is a running gag between the two involving their aunt and niece relationship, which is made all the more humorous by the fact that Anak is actually older than her "aunt" Androssi. However, Androssi has taken the more "supervising older sibling" role, with higher status, strength, and authority in The Tower.
Hatsu: The two met in the first part of the Floor of Tests and fought each other. They readily put aside their differences when they had to find people to team up with. Even when they were a team, Hatsu seemed to dislike Anak's selfish attitude and dissociated himself from her after the teams disbanded. They are mildly antagonistic towards each other but are able to work together.
Ship Leesoo: Anak tolerates his silly and somewhat annoying behaviour. After she got the Black March, she went to him for help because she thought he might qualify as a "handsome man" (she then immediatly denied it as a bad joke). When she was injured, he brought her food, although this was also to get her to sign her name on his friendship list. He can convince her to listen to him after much begging and pleading, like during the Hide and Seek test. She was rather jealous when he was drooling over Androssi (fighting the Bull) though, which might indicate some sort of attraction to him.
Baam: Anak appears to be mostly indifferent to Baam. The only time she has shown interest was when he was in possession of the Black March, though the interest was never directed at him. This may have changed after she found out that he was an irregular, as she was more willing to help him in the Submerged Fish Hunt, but it may have also been because she disliked Koon's apparent attitude.
Everyone else: Anak seems to care little for anyone else and will hardly talk to them.
Notes and Trivia
Edit
Anak entered the Tower for revenge.[1] This would be against Zahard and his family, for persecuting her mother.
Also, according to SIU in Ch 46, Anak was one of the characters who appeared in the original Black and White version of TOG. However, she was human then.
Alternate Translations
Edit
(Korean Pronunciation) Ah-nahk Jah-hah-deu
(SIU) Anak Jahad
References
Edit
↑ Tower of God Part I Preview